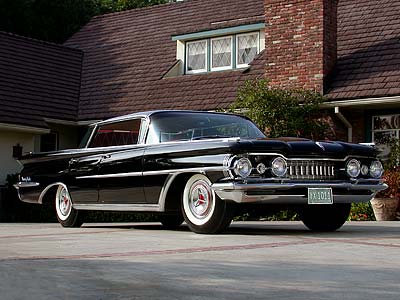 The Ninety Eight was top of the liine for Olds. The wheelbase was not only longer than the Super 88, 88, and Dynamic 88 models, the 98 had extra luxury touches like higher quality upholstery fabrics, special front and rear grilles and unique tail lights for '59.
The SportSedan model was new for 1959. Although sedans normally have pillars between front and rear doors, the new model was a pillarless 4 door hardtop. Although all GM brands offered this flat-top roof with wraparound rear backlight in 1959, the styling of the '59 Olds and '59 Pontiac showed the new roof off to its best advantage in my opinion.
Other body styles available on '59 Olds 98's were a convertible, a 2 door hardtop ScenicCoupe, and a 4 door pillared sedan.