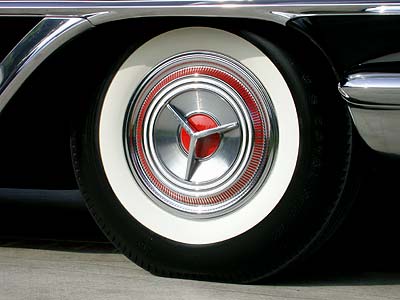 The '59 Olds Deluxe wheel cover features a spinner design.
Notice there is no visible valve stem. From 1957 into the early 1960's (1963?), Olds stylists had their way and did away with visible tire valve stems - no ugly black things to mar the design of their beautiful wheel covers!
Actually the cover is attached to the wheel with five spring clips - the cover is pulled straight out by grasping the "spinner" in the center and pulling HARD. The hubcap stays attached to the wheel with a gap of a couple of inches, revealing a standard gray wheel underneath, complete with tire valve stem. An attractive design, but in reality a ROYAL pain to deal with! Checking air pressure on an Olds tire can turn into an exasperating ordeal.
The clips tend to become detached from the hubcap and wheel, then rattle inside the wheel. The hubcap can then fly off the wheel by no longer being securely attached by 5 equally spaced spring clips. The clips can be difficult to re-attach to the wheel, then it's just as difficult to attach the hubcap to the spring clips. Because the clips are made of spring steel they are rust prone, especially in road salt areas of the country. And the riveted-on rubber anti-rattle bumper can disintegrate, causing improper tension and rattles. In other words, this was an ill-conceived design that emphasized form over function. It's surprising that Olds continued this tradition for several years. In my experience, Oldsmobiles of the 1950's-60's were GM's finest engineered and built cars, with the hubcap design being one of the very few flaws. But those hubcaps sure are pretty!
With only 4,500 miles on the tires when I bought the car in 1992, the original US Royal "Safety 8" 9.50x14" tires appeared to be in nearly new condition. But old tires can be extremely unsafe in spite of tread appearance. I decided to purchase an extra set of wheels from a parts car, had them sandblasted and powder coated medium gray as original, and purchased a set of reproduction US Royal tires in the correct size. The original tires are still mated to the wheels and are in storage. The original spare tire complete with factory attached wheel cover clips is still in the trunk - it has obviously never been on the ground. It looks and smells like a brand new tire.