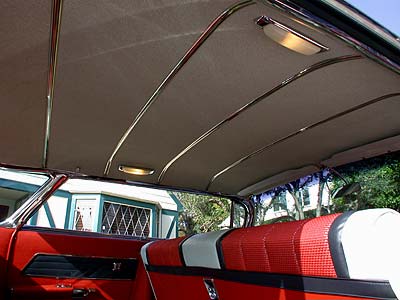 From 1958 until the early 1960's (1963?), Olds offered a special headliner called "Star-Lite." This foam textured material is quite attractive, but not very durable. Thin vinyl foam sheets are glued to cardborad-like panels, and the panels are held in place by plastic bows with a chrome-like finish. Unfortunately, the foam is easily damaged - one small rip and it can begin to fall off the backing panels. And after years of heat exposure, the glue usually fails causing the foam to literally fall off in sheets. No reproduction materials are available - the only solution for most Oldsmobile owners has been to replace the Star-Lite with conventional vinyl headlining.
This low mileage '59 is one of very few Oldsmobiles with its original Star-Lite headliner in like-new condition.
From the 1959 Oldsmobile "Colors and Fabrics" dealer book, here's a description:
STAR-LITE
Sponge vinyl headlining is standard in Ninety-Eight and Super 88 Holiday SportSedans and SceniCoupes, optional in other models, except Fiesta station wagons and Convertibles. Offered in Ivory, pale green, light blue, beige.