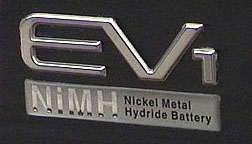 1999 "Generation II" GM EV1 announced 12/5/98
revised 11/99: due to a number of engineering obstacles, the delivery of Generation 2 EV1's has been delayed until late 1999
One of the major obstacles to mass acceptance of electric vehicles has been the limited range between charge cycles. The lead-acid battery technology used in the 1st generation 1997 EV1 and other early electric vehicles has been around for at least 100 years. The world has been waiting for a "magic" new battery that can deliver the kind of range that drivers of gasoline-powered vehicles have come to expect. The Nickel Metal-Hydride battery invented by Stanford Ovshinsky, President and CEO of Ovonic Battery Co. comes closer to matching that level of performance. Indications are that future versions of NiMH batteries will be able to store even more energy. Other types of high density batteries are being developed for EV's as well, including Lithium-Ion for Nissan's new Altra EV.
GM officially unveiled the 1999 EV1 equipped with GM-Ovonic Nickel Metal-Hydride batteries at a party celebrating the second anniversary of the EV1 on December 5, 1998. Current owner-lessees were invited as well as potential new customers that had indicated an interest in a longer-range EV1. The plan announced by Rick Ostrov (Team Leader of Saturn's Electric Vehicle Marketing Services) is to make the NiMH EV1 available to current owner-lessees first, in the order that the leases were signed. Those current owners that wish to upgrade to the 1999 NiMH EV1 will be allowed a no-penalty early lease termination on their 1997 model cars. The lease price for the 1999 NiMH EV1 is $499 per month including the 6.6kW MagneCharger. A higher capacity lead acid battery will also be offered at a lower cost. The new lead acid battery pack has substantially high range capabilities than the original Generation 1 Delphi batteries, however the more expensive NiMH battery option will yield the maximum driving range per charge.
At the introduction party, Mr. Ostrov stated that a number of NiMH EV1's will be made available to new customers concurrent with the upgrade program for existing customers. The 1999 EV1 will be manufactured at GM's Lansing Craft Centre in Lansing, Michigan. Also announced was that the 1997 Generation 1 EV1's will be retrofitted to accept the new High-Capacity Lead-Acid batteries when the original leases expire and stocks of the original Delphi batteries are exhausted. Due to design changes to accommodate special cooling for the NiMH battery pack, it is not possible to retrofit the Generation I 1997 EV1 to accept NiMH batteries.
Other news at the party: the new Generation II 6.6kW MagneCharger was on display and will be available later in 1999. And a major step in reducing the often costly installation of charging units is the new $500 flat installation fee, regardless of the complexity of the necessary electrical work.
I was recently given the opportunity to test drive a production 1999 NiMH EV1 for a few days.