DAY 10
5/21/98

---
Elk City, Oklahoma to Perry, Oklahoma
Total Miles: 193
Progress Maps: Close Detail | USA View
---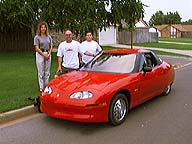 Thanks to CSW's Ron DeFatta, Anita Archer, and Layne Chandler, I was treated to a complimentary stay last night at the Elk City, Oklahoma Holiday Inn. Anita offered her home 220 volt dryer outlet for my overnight charging needs. That's Anita and her son Nick with me in the photo.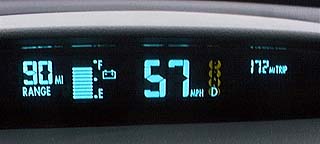 On the drive to my next charging stop in Clinton, I was impressed by the driving range I was getting on my EV1. It's hot and humid here in Oklahoma which may be part of the cause. I've been operating the air conditioner on the middle power setting with the blower on the highest speed - the above photo of the instrument panel was taken under those conditions. I'm getting better at learning how to drive the EV1 to maximize the range, but I certainly wasn't expecting this good news. Mountain down slopes aren't helping me anymore - I'm in the plains of Oklahoma now, where it's fairly flat with some rolling hills.

When I first started thinking about driving my EV1 on an extended trip, it didn't occur to me that I'd be hauling around my big wallmount 6.6 kilowatt 220 volt MagneCharger. Believe it or not, I was actually planning to use the portable 1.2 kilowatt 110 volt trunk-mounted "convenience charger." At 10 to 15 hours per charge for each 60 miles or so of driving, I wouldn't be taking a very long trip and I'd have a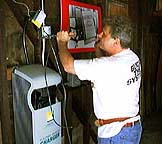 LOT of relaxation time! J.R. Reihl is an active member of our EV1 Club's internet discussion list. He's an employee of one of Southern California's premier Saturn retailers, and specializes in EV1 service. He's done a great job of "unofficially" demystifying the workings of the car when members of our discussion group have technical questions. Although J.R. and I had never met in person, we developed a rapport through private e-mails. He suggested that I do what a few other EV1 drivers had done - convert my 220 volt wallmount charger for portable use - adding a plug-in connection and installing wheels on it. The big unit would fit nicely in the EV1's roomy trunk, and I'd be able to cover a lot more miles each day. I could make the trip in a lot less time and potentially make a much longer trip. Electrician and friend Charlie Barsamian (pictured) helped with the conversion. One major consideration is that GM designed the big charger for permanent installation, and the warranty would be voided if I alterered the unit for portable use. The only other obstacle I saw would be the difficulty in identifying sources of 220 volt 30 amp power in towns and cities along the way. I brainstormed how to accomplish this with my friends Ken Breslow and Max Trejo during our traditional Sunday morning breakfasts, and one idea that surfaced was to identify and contact local electric utilities on the route. Surely they could help me locate 220 volt outlets in their service areas. Thanks to Kateri Callahan and Chris Hardin at the Electric Transportation Coalition in Washington D.C., I was given a list that would become one of my resources for charging arrangements.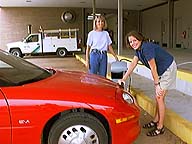 This brings me to Lori Lindquist, an employee of Central and Southwest Corporation (CSW). Lori's boss at CSW, Tonya Shadduck, asked her to work with me in CSW's service territory. She not only helped me with locations in in CSW's areas, but offered to assist with New Mexico, not a CSW state. After countless emails and phone calls, today was the day I'd finally meet Lori in person at my next stop in Clinton, Oklahoma. That's Lori in the foreground placing the MagneCharger paddle into my EV1's charging port along with Kathie Price, customer service specialist for CSW subsidiary PSO (Public Service of Oklahoma) here in Clinton.

While my EV1 was charging, Lori and I enjoyed a late breakfast and swapped stories at Clinton's own Route 66 icon, Pop Hicks Cafe. I love these local eateries, and this one was no disappointment.
Trexler (center) with KOTV's Grant Gerondale
and Scott Thompson (right)

Charging up in Hinton, Oklahoma
Lori made arrangements for an interview with an award-winning Tulsa television reporter to come here to Clinton to do a story about my trip. KOTV's Scott Thompson and videographer Scott Gerondale spent quite a bit of time with me doing an in-depth feature about the EV1. Scott's easy-going style relaxed me and we had fun for a couple of hours. I was happy to have the opportunity to give television viewers in Oklahoma a preview of the future of transportation. I spent a good deal of time hitting home the need to conserve our natural resources for uses other than burning them up forever in petroleum-powered vehicles. Oklahoma is a major oil-producing state, and the folks I met here seem genuinely interested in conserving their valuable resources for the needs of future generations. Large crowds came out to see the EV1 at all my stops in Oklahoma, such as my next charging stop in Hinton. Adults and children alike were excited about an electric car coming to town, and I predicted that the kids would have the opportunity to drive electric cars like the EV1 themselves in the not-too-distant future.

After charging my EV1 up to 96% full in Hinton, I was off to Oklahoma City. OG&E's Gary Marchbanks had made arrangements with a local vocational-technical school for me to charge at their facility. Mid-Del Vo-Tech's Sandy Stephens was a gracious host. When I arrived at the school, I was surprised to see a 6.6 kW MagneCharger hooked up and waiting for me. CSW owns an electric Chevrolet S-10 pickup truck, and provided its charger for my use. The S-10 was on hand as well. Mid-Del Vo-Tech has seen the future, and offers an aggressive EV Technical Training program at their Tech Center in Oklahoma City under the auspices of Mike Anderson. Sandy arranged a catered meal at the school, and I had the opportunity to meet civic leaders and employees of a local GM plant athe delicious dinner.

I said goodbye to my new friends in Oklahoma City, and was off to Perry, 60 miles north. I used the small 110 volt convenience charger at the Best Western Cherokee Strip Motel, and spent the rest of the evening catching up on telephone calls. Tomorrow I'll be driving to my home town - Wichita, Kansas. I'm going to relax and enjoy the Memorial Day weekend with my family and take a few days off from my cross-country drive. I'll share some images of Wichita with you tomorrow, then on Monday I'll begin the last leg of my CHARGE ACROSS AMERICA.
---
Trip Log
Departure
Point
Charging
Stop #1
Charging
Stop #2
Charging
Stop #3
Charging
Stop #4
Town or City
Elk City, OK
Clinton, OK
Hinton, OK
Oklahoma City, OK
Perry, OK
Elevation
2250
1900
1700
1650
1600
Odometer
15943
15972
16012
16073
16136
Trip Odometer
0
29.0
40.0
61
62.4
Driving Notes
-
-
Freeway construction slowdown in OKC
-
Grades Encountered
Fairly flat
Rolling hills
Fairly flat
-
Rolling hills
Charging Information
Charge Start Time
Overnight
9:45 AM
12:30 PM
4:15 PM
9:15 PM
Charge End Time
-
11:45 AM
2:15 PM
7:30 PM
7:00 AM
Charge Duration
2h 0m
1h 45m
3h 15m
9h 45m
Charging Facility
Anita Archer residence
PSO facility
PSO power pole drop
Mid-Del Vo-tech
Best Western Cherokee Strip
Contact Name
Anita Archer/Layne Chandler/Ron DeFatta
Kathie Price, customer service specialist/PSO`
Gary Lamm/PSO
Sandy Stephens/Mike Anderson
-
Charger Type
6.6kw/240v
6.6kw/240v
6.6kw/240v
6.6kw/240v
1.2kw/120v
Charge Indicator
(In Bars/11=100%)
11
8 start/11 finish
7 start/11 finish
3 start/11 finish
4 start/10 finish
Charge Start (%)
60
21
Charge Stop (%)
100
96
94
Ambient Temp (°F)
Weather Conditions
70°
70°
95°
90°
75°
Approx. Miles to Next Charging Stop
and Known Grades
30 miles - rolling hills
40 miles - fairly flat
60, fairly flat
62 miles - flat
41 miles
---