DAY 11
5/22/98

---
Perry, Oklahoma to Wichita, Kansas
Total Miles: 110
Progress Maps: Close Detail | USA View
---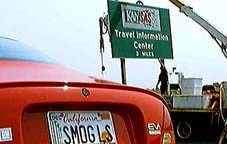 Welcome to Kansas - The Wheat State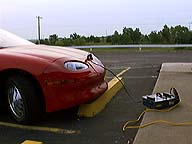 Today was one of the shortest driving days on my Charge Across America. I've been looking forward to staying with family in my hometown, Wichita, Kansas. I've spent the last few days driving eastbound on Interstate 40 and Historic U.S. Route 66. In Oklahoma City, I connected to northbound Interstate 35 which would take me directly to Wichita. I spent the night in Perry, Oklahoma at the Best Western Cherokee Strip Motel. There was no readily available source of 220 volt power, so I ran an extension cord from my motel room and used the portable 110 volt "convenience charger." The small charger takes up to 15 hours to perform a full charge, but it's fine for overnight duty. I left Perry with 9 out of 11 bars showing on the state of charge gauge, more than enough to take my EV1 41 miles to my last charging stop before going on to Wichita. Heat and humidity - Oklahoma and Kansas are famous for it this time of year. Add to it a liberal dose of haze from the fires burning in Mexico, and the comfort factor goes down a notch or two. Thankfully, the EV1 has an excellent air conditioning system. Although it steals a bit of the battery charge available for driving, the warm outside temperatures are helping the batteries deliver more range than I planned for, so the windows are up and it's cool inside the cabin.

| | |
| --- | --- |
| | |
Lori Lindquist at CSW had helped me arrange for 220 volt power at Blackwell, Oklahoma's city owned utility. Because it was 8:00 am, I was unable to reach my contact at City Hall by cellular telephone. Blackwell sits a couple of miles east of Interstate 35, and I was keeping my eyes open for an alternate source of power in case my connection at City Hall fell through. I was rewarded in less than a mile off the interstate with Kay Electric Cooperative. The large, modern facility looked promising. A gentleman named Doug Worley greeted me, and was genuinely excited to see my EV1. Within minutes, I was hooked up and charging from a 220 volt source. Talk about red carpet treatment!
The folks at Kay treated me to breakfast at a favorite local spot, the D & S Restaurant. Virtually all of the locals cleaned their own tables after eating. I was impressed that they didn't feel the need to be waited on. Laura cooked up great food and conversation, and the customers cleaned up after themselves. Small town values are admirable! When I returned to Kay Cooperative's facility, I was asked to speak to the board of directors about the EV1 and my trip. The board was impressed that the EV1 was so sophisticated and reliable. I learned that Kay Electric Cooperative serves rural customers over a wide area of northern Oklahoma. With an 88% charge in the batteries, I returned to I-35 for the final 69 mile drive to Wichita. Break time was almost here at last. After a week and a half of traveling from California by myself, I was relieved to see familiar faces. Other than a sightseeing tour of Wichita for some photos for this website, I was going to relax and catch up on my sleep before continuing on the last leg of my EV1 Charge Across America.
---
Trip Log

Departure
Point

Charging
Stop #1

Charging
Stop #2

Town or City

Perry, OK

Blackwell, OK

Wichita, KS

Elevation

1600

1550

1900

Odometer

16136

16177

16246

Trip Odometer

0

40.9

69.2

Driving Notes

-

-

-

Grades Encountered

Fairly flat

Fairly flat

Flat

Charging Information

Charge Start Time

9:15 PM

8:15 AM

12:00 PM

Charge End Time

7:00 AM

10:15 AM

4:00 PM

Charge Duration

9h 45m

2h 0m

4h 0m

Charging Facility

Best Western Cherokee Strip Motel

Kay Electric Cooperative

-

Contact Name

-

Doug Worley

-

Charger Type

1.2kw/120v

6.6kw/240v

6.6kw/240v

Charge Indicator
(In Bars/11=100%)

10

5 start/10 finish

-

Charge Start (%)

40

7

Charge Stop (%)

88

100

Ambient Temp (°F)
Weather Conditions

65°

80°

90°

Approx. Miles to Next Charging Stop
and Known Grades

41 miles

70 miles - flat

Travel break through May 24
---
BACK to Daily Diary HOME page