DAY 11-12-13
5/22 through 5/24/98

---
TRAVEL BREAK
Wichita, Kansas


---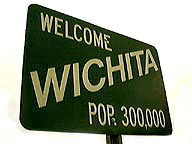 Wichita, Kansas is my home town. Although I left "The Air Capital City of the World" to pursue my television career in Hollywood in 1971, I always enjoy returning to Wichita to spend time with my family. I relaxed here for three days and spent time with my parents and brother before beginning the final leg of my EV1 Charge Across America.
I would like to share a few images of Wichita with you. Everyone thinks of Kansas as "The Wheat State," and it is. The plains are ideal for wheat and cattle production, and this is the nation's breadbasket. Oil and natural gas has made many a Kansas millionaire, too. The low gasoline prices here would frustrate many Californians. (Suggestion: get an EV1!)

You might be surprised what else comes from this city of 300,000+ in the heart of America. There are many other corporations that are headquartered here now, but these are the most prominent ones I remember as I grew up here.
---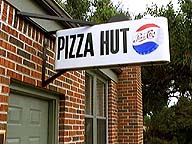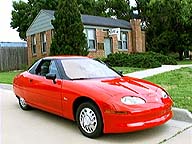 Who in America hasn't eaten a Pizza Hut pizza at sometime in their life? It started here in Wichita.
This is the very first Pizza Hut.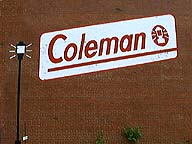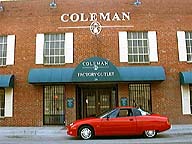 Ever gone camping or used outdoor equipment? Chances are you used a Coleman product. The upper photos show the original Coleman factory and outlet store in Downtown Wichita. The bottom photo is their modern factory on the north end of the city.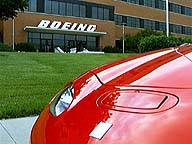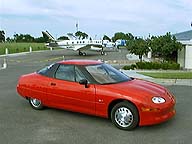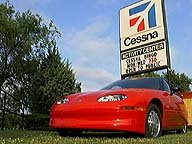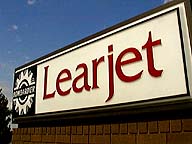 Wichita is known as the "Air Capital City of the World." Boeing has had a huge plant here for much of this century, and private and corporate airplanes such as Cessna, Beechcraft (now Raytheon), and Learjet are all produced here as well.
---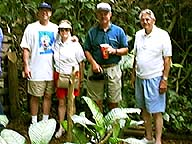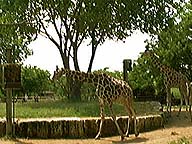 Wichita has a world class zoo, as I discovered on this visit. The Sedgwick County Zoo is quite large and worth a day's visit. That's my family on the left.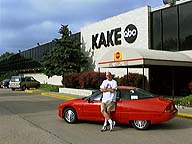 I started my television career in Wichita. I attended Wichita State University, and worked for three years during my college years at KAKE-TV, the local ABC affiliate. I moved to Los Angeles to pursue my career in "Hollywood."
---
BACK to Daily Diary HOME page