DAY 14
5/25/98

---
Wichita, Kansas to Overland Park, Kansas (Kansas City)
Total Miles: 189
Progress Maps: Close Detail | USA View
---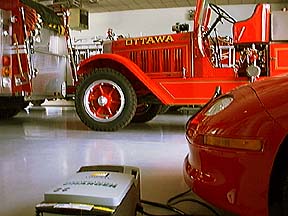 After a weekend break from my travels in Wichita, I was ready to begin the final leg of my cross country journey. I've traveled 2,076 miles since I began my EV1 CHARGE ACROSS AMERICA in Los Angeles on May 12. The trip has gone without a hitch, right on schedule. My EV1 has performed flawlessly, as I knew it would. The driving range has so far exceeded my expectations.
Today I traveled northeast on Interstate 35. Between Wichita and Emporia, Kansas, I-35 is the Kansas Turnpike. As a child, I remember the speed limit on the turnpike being 80 miles per hour. In order to maximize the driving range in my GM electric car, I'm traveling between 55-65 miles per hour. I'll slow down to around 50 mph on steeper hills to avoid wasting energy. The EV1 has plenty of power to climb the tallest hills, but with any form of transportation when you fight gravity you use more energy. Kansas is widely considered to be "flat as a pancake," and indeed much of it is. But the eastern and northeastern part of the state has numerous gently rolling hills, especially in the Flint Hills to the north. I originally hoped to drive from Wichita directly to Emporia, but 82 miles is stretching the EV1's range, especially in hilly terrain. I needed a midway stop, and thanks to Tricia Wenz at KG&E and Mark Schreiber, a 220 volt outlet was provided at the Matfield Green service area on the Kansas Turnpike 51 miles north of Wichita. After a 50 minute "top-off, " I continued onto Emporia.
| | |
| --- | --- |
| | |
In Emporia, Mark Schreiber again provided an excellent charging location, one I would not have considered on my own. This time, it was at Fire Station #2. Thanks to Mark's efforts, station Lieutenant Bill Renfro was waiting for me with a 220 volt outlet. It seems that firemen need washers and dryers on the premises, and since there was no immediate need to use the dryer, I was allowed to use the power source. Lt. Renfro and firefighter Jim Wells were surprised at the EV1's sophistication, expressing reservations only about driving range - I urged them to "stay tuned." Lt. Renfro graciously offered to contact the City Fire Department at my next stop Ottawa, KS. Ottawa was one of the few towns on my route where I didn't have a 220 volt power source lined up. Thanks to the efforts of Lt. Bill Renfro, charging in Emporia and Ottawa was a piece of cake as it had been at nearly all of my stops. Firemen eat well, and today was going to be no exception. Before long the big smoker was being heated to cook some Memorial Day ribs, but I had a tight schedule to keep today, so I regretfully asked for a rain check.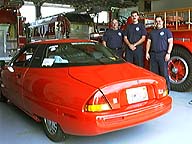 After an hour and 15 minutes on the 220 volt charger in Emporia at Fire Station #2, I departed for Ottawa, 62 miles to the northeast. A slight mixup in driving directions delayed my arrival at Ottawa's Fire Station and I arrived quite low on charge - only 2% remained. After an hour and 45 minutes of admiring the department's restored fire engine and hearing fascinating stories about the challenges that firemen face, I was off to the Kansas City suburb of Overland Park, Kansas.

In Overland Park, I was greeted by a large gathering at the City Hall. There is an active club here called the "Mid-America Electric Automobile Association." President Bruce Edgeworth and many of the clubs members were on hand to see my production electric car. Virtually all the electric cars in the club are specialty conversion electrics, and the membership was eager to see the sophistication built into the car they had only read about in magazines, the EV1. Hopefully it will be more widely available so that a bigger audience can appreciate the benefits of zero emission vehicles. Thanks to Joe Reed, Administrator of Health and Environment for the City of Overland Park for providing a 220 volt power hookup. The city is obviously environmentally conscious. Joe had a 1994 Ford Ranger pickup truck on display that the automotive shop at Shawnee Mission High School West had converted to electric propulsion, under the supervision of Jeff Simpson. I was treated to a ride in the Ranger, and was impressed that high school students had accomplished so much in 6 months. It was nice to see that these students were immersed in such a worthwhile project - a great introduction to the transportation technology of the 21st Century.

A pleasant surprise in Overland Park was an appearance by Bill Moore, editor and webmaster of EV World, an online magazine and resource for present and future electric transportation enthusiasts. A visit to http://evworld.com is highly recommended. Bill made a three hour drive down from Omaha to meet me. We enjoyed a great barbecue dinner along with Kansas City EV enthusiast Jeff Simpson before settling down to do an in-depth interview about my trip and impressions about the EV1 and electric transportation.

Tomorrow, I'll pass through Kansas City and on through the many, many rolling hills of Missouri to the college town of Columbia. The optimistic advice about the terrain of western Missouri I received in back in California while researching my route would provide me an unexpected close call.
---
Trip Log
Departure
Point
Charging
Stop #1
Charging
Stop #2
Charging
Stop #3
Charging
Stop #4
Town or City
Wichita, KS
Matfield Green rest stop
Emporia, KS
Ottawa, KS
Overland Park, KS (Kansas City)
Elevation
1600
1750
1450
1200
Odometer
16402
16453
16485
16547
16591
Trip Odometer
0
51.1
31.7
61.8
43.9
Driving Notes
-
Fairly flat, numerous rolling hills
-
I found this location thanks to Emporia Fire Dept.
-
Grades Encountered
-
-
Some hills
Minor hills
Minor hills
Charging Information
Charge Start Time
Overnight
10:45 AM
12:30 PM
3:30 PM
6:35 PM
Charge End Time
-
11:35 AM
1:45 PM
5:15 PM
10:00 PM
Charge Duration
0h 50m
1h 15m
1h 45m
3h 25m
Charging Facility
-
Matfield Green
Emporia Fire Station #2
Ottawa Fire Dept.
City Hall-Overland Park
Contact Name
-
Tricia Wenz (Western Resources
Lieutenant Bill Renfro
-
Joe Reed (City), Alex Hapka, Pam Levetzow (KCP&L)
Charger Type
1.2kw/120v
6.6kw/240v
6.6kw/240v
6.6kw/240v
6.6kw/240v
Charge Indicator
(In Bars/11=100%)
11 (full)
4 start/10 finish
3 start/9 finish
1 start/9 finish
3 start/11 finish
Charge Start (%)
29
20
2
Charge Stop (%)
100
63
78
76
100
Ambient Temp (°F)
Weather Conditions
65°
75°
80°
85°
80°
Approx. Miles to Next Charging Stop
and Known Grades
51 miles- some rolling hills
Some rolling hills
61 miles - minor hills
44 miles, minor hills
-
---