DAY 17
5/28/98

---
St. Louis, Missouri to Terre Haute, Indiana
Total Miles: 182

Progress Maps: Close Detail | USA View

---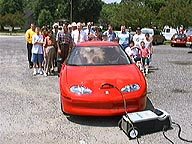 Welcoming committee in Greenville, Illinois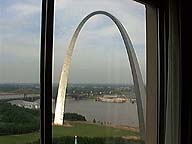 After a restful night's sleep, I opened the curtains in my room at the Regal Riverfront Hotel this morning to take another look at St. Louis' most famous monument, the Gateway Arch. It really is breathtaking in it's elegant simplicity. It's hard to imagine that the nearby Mississippi River overflowed its banks a couple of years ago and flooded the entire area around the base of the arch. I was anxious to see reporter Repps Hudson's story about my trip in this morning's St. Louis Post Dispatch. I spent quite a bit of time with him yesterday afternoon. One thing I've learned about talking to the press on this trip is that when a reporter has an agenda, they'll write the story to fit their angle regardless of what you tell them. I've been misquoted several times, including a Los Angeles Times story stating that I was taking the "first cross country trek in an electric car." I've never made that statement, because I know it's been done before. I feel pretty confident that I can state that this is "the first cross country trek in a modern-era production electric car," however. Big difference. Anyway, I thought Repps did a very fair job, but he mentioned that I to "wrestle an electric vehicle charger out of the small trunk," implying that this is standard procedure. I'm certainly not using the EV1 for what it was designed, and I wouldn't want anyone to think that the charging procedure is a hassle. It couldn't be simpler when the charger is mounted to the garage wall as designed, and the paddle simply slipped into the slot in the car's nose. I'm breaking the rules by hauling the big charger around the country. Also, without this unit in the trunk, I really think the EV1's trunk is quite roomy. Just a couple of pet peeves about an otherwise nice article.
After receiving dire warnings about major traffic jams on the Mississippi River bridge crossing into Illinois, I thanked the people at the hotel who had accommodated my unusual needs. Although they probably won't need to help out an EV1 driver in the near future, it was pretty obvious that they enjoyed having the car in front of the hotel's main entrance. It was another warm, muggy day and I didn't hesitate to use the EV1's cabin pre-conditioning feature to cool the interior before I disconnected my charger. This feature is quite handy, because it allows the a/c to operate from power coming in from the charger to cool the interior 15 minutes before departure, allowing a lower a/c power setting when driving. This saves battery power, because the initial cabin cooldown uses more energy on a hot day - better to take advantage of external power to "precondition" the interior. On a cold day, the same feature initiates heater preconditioning.
The only problem crossing the I-70 eastbound bridge was that the state border between Missouri and Illinois is halfway across the bridge and I was unable to stop to take a photo of the "Welcome to Illinois" sign. Take my word for it, I really did drive through Illinois! From the early planning stages of the trip, I looked forward to photographing my car at each state border to prove that my EV1 was really there. Oh well, I had the same problem crossing the Missouri river from Kansas into Missouri.
| | |
| --- | --- |
| | My first charging stop in Illinois was Greenville. Illinois Power's Mike Beck had made the arrangements for me. I arrived at the Greenville Municipal Building around 11:15, a little later than planned. Road construction on I-70 east of St. Louis slowed me down considerably. A welcoming committee headed by Greenville Mayor Gordon Corning was ready for my arrival (see photo at top). A lineman from Illinois Power had installed a receptacle before my arrival on an outside power pole so that I could plug in. After answering questions and handing out literature to the crowd, Mayor Corning invited me into his office. We enjoyed refreshments and he presented me with a "Certificate of Achievement" for making my trip. I was surprised and touched by the gesture. |
| | |
| --- | --- |
| | |
A hour and ten minutes was all I needed to obtain an 84% charge in Greenville, so I was off to my only other Illinois stop, Effingham. Again, Mike Beck and Illinois Power had a charging facility line up for me. Dan Hecht Chevrolet in Effingham is a pretty busy place. Both the showroom and the service department were humming when I arrived, but all the service technicians stopped what they were doing when I drove my EV1 into the large service garage. Sales Manager Jim Hecht greeted me and as usual I got the charger set up quickly and answered questions. I'm not sure what the service technicians thought of the EV1. They were obviously fascinated, but more than one of the guys seemed a bit uneasy when I told them how little maintenance the EV1 requires (far less than a gasoline powered car). I knew they'd get a kick out of the EV1's underbelly, so I invited them to take a look underneath. There is none of the usual stuff like mufflers, tailpipes, and gas tanks - just a flat panel to keep wind resistance down and improve aerodynamics (and driving range). A local TV reporter and radio reporter stopped by to interview me. Apparently the radio interview played shortly thereafter, because several people that heard it dropped by the dealership to see the EV1. Jim Hecht didn't seem to mind the extra traffic in his showroom! The drive to my next stop would be around 75 miles, so I charged for 3 hours in Effingham to get a 94% charge. I wasn't taking any more chances like I did between Kansas City and Columbia, Missouri!
| | |
| --- | --- |
| | I arrived in Terre Haute, Indiana with 3 out of 11 bars displayed on the charge gauge after driving 73 miles, so the 94% charge in Effingham was a bit of overkill. The car was pretty filthy, so I stopped off at a self-service car wash. Just as I was finishing up, a car pulled up and three guys jumped out seeming very excited. They too had just driven from St. Louis and one of them had been reading the article in the Post Dispatch just minutes earlier. They were familiar with the EV1 from earlier magazine articles, and said they couldn't believe they were lucky to be seeing one in person. Too bad they don't live where EV1's are available! I shouldn't take it for granted that those of us out west are lucky to be able to lease the EV1. Someday electric cars like the EV1 will be as common as the Buick they were driving. They asked me to autograph the newspaper for them, just as the doormen at the Regal Riverfront Hotel in St. Louis did earlier. I hardly feel like a "celebrity," but I went along with their request. The Pear Tree Inn Motel didn't have outside 110 volt outlets as I had hoped, but they did have 220 volt 30 amp air conditioners in the rooms. I just so happened to have an adapter cable that let me connect my 220 volt charger into the a/c's power receptacle, so I opted for the big fast charger rather than the slower 110 volt unit. |
I took the night off from preparing my daily diary update. I wanted to get a good night's sleep to be prepared for what promised to be a very busy day tomorrow - I'd be off to Indianapolis where many EV1 components are designed, tested, and remanufactured. GMATV had several interesting tours lined up for me, and I was eagerly looking forward to meeting some of the people responsible for this incredible machine. Sounds like an EV1 enthusiast's dream come true!
Trip Log
Departure
Point

Charging
Stop #1

Charging
Stop #2

Charging
Stop #3

Town or City

St. Louis, MO

Greenville, IL

Effingham, IL

Terre Haute, IN

Elevation

Odometer

16900

16954

17009

17082

Trip Odometer

0

54.1

54.9

73.0

Driving Notes

Unable to photograph Illinois border sign due to bridge crossing.

Hot and muggy. used a/c (low power, fan 3)

-

-

Grades Encountered

-

Flat

-

-

Charging Information

Charge Start Time

Overnight

11:25 AM

1:45 PM

8:30 PM

Charge End Time

-

12:35 PM

4:45 PM

2:15 A

Charge Duration

1h 10m

3h 0m

3h 30m

Charging Facility

Regal Riverfront Hotel

Greenville Municipal Bldg.

Don Hecht Chevrolet

Pear Tree Inn

Contact Name

Rick Durbin

Mick Beck

Jim Hecht

-

Charger Type

6.6kw/240v

6.6kw/240v

6.6kw/240v

6.6kw/240v

Charge Indicator
(In Bars/11=100%)

11

4 start/10 finish

2 start/10 finish

3 start/11 finish

Charge Start (%)

38

15

Charge Stop (%)

100

84

94

100

Ambient Temp (°F)
Weather Conditions

80°

85°

90°

90°

Approx. Miles to Next Charging Stop
and Known Grades

53 miles - flat

53 miles - flat

68 miles - flat

75 miles - flat
---
BACK to Daily Diary HOME page