DAY 18
5/30/98

---
Terre Haute, Indiana to Ft. Wayne, Indiana
(via Indianapolis, Indiana)
Total Miles: 212

Progress Maps: Close Detail | USA View

---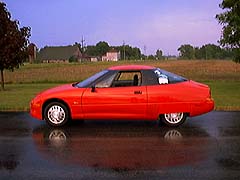 near Markle, Indiana
This morning when I walked up to my EV1 in the parking lot at the Pear Tree Inn Motel, a young man approached, asking me to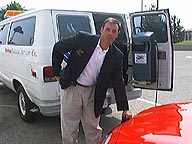 autograph his copy of the St. Louis Post Dispatch article about my trip. The was the second time in 2 days I was asked autograph a St. Louis paper in Terre Haute. How are these people finding me? Sure I'll sign and answer a few questions, but I was anxious to get an early start for Indianapolis. There is considerable EV1 R&D and component testing in Indianapolis, and GMATV obliged my request to arrange tours of some of the EV1-related facilities there. My first charging stop after leaving Terre Haute was at a McDonald's restaurant on the western outskirts of the city. There I met Keith Walker, Business Development Manager for Raytheon Technical Services Corp. During my trip's planning phase, Keith offered to escort me to the company's facility using their MagneCharger-equipped EV1 Mobile Service Van. I took advantage of a quick (but unnecessary) charge while we chatted over coffee at McDonalds, then I followed the van to Raytheon's facility.

My grimy EV1 was the only thing in the spotless lab where Raytheon's engineers remanufacture EV1 components and design and build testing equipment for components and MagneCharge chargers. I parked next to EV1 serial number 15, a very early prerelease car used by GM and Raytheon for long-term evaluation.

When EV1 components are replaced in the field during service, they are sent here for evaluation. Quite often, there are no defects in the returned units because there may have been other causes that resulted in the customer's problem. Sophisticated procedures and test equipment are used to evaluate the components. Many early production components are upgraded to the standards of newly manufactured units. Product revisions and upgrades have been part of the automotive world since the beginning, and the EV1 is no exception. My EV1 is an early production car, serial number 99. It's been so flawless that it's hard to imagine what could be improved, but research and development is an ongoing process. Raytheon also remanufactures the Dolphin 50kW inverters made by Hughes Power Control Systems that are used in other electric vehicles such as those that have been converted from internal combustion engines.
| | |
| --- | --- |
| Raytheon Charger Checker | Raytheon Super Checker |
Raytheon designed the Charger Checker, a small device for doing basic diagnostics on MagneChargers, but an even more sophisticated "Super Checker" hand-built prototype was recently created here, and in-house production of a number of these superior 6.6kW checkers is underway.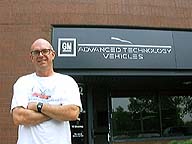 With my Raytheon tour complete, Keith Walker handed me over to Steve Bryant. Steve is Program Coordinator for Electricore, a consortium of electric vehicle components manufacturers. Although not a GM employee, Steve was asked by GMATV to coordinate my tours of GMATV facilities in Indianapolis. Our first stop was at GMATV plant 77 on the northeast side of the city. My arrival at Plant 77 was quite touching. A large crowd of GMATV employees awaited my EV1's arrival and were applauding and cheering as I drove up to a charging station at the rear of the building. It was obvious that my EV1 adventure had the support and enthusiasm of this group! As I had also discovered at the Raytheon facility, the GMATV crew were following my journey on the internet to see how things were progressing. You can imagine their pride that everything was going so flawlessly - these are the folks that put EV1 components like batteries and propulsion systems through torture tests and laboratory evaluation.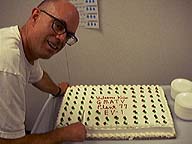 Once my EV1 was "paddled up," we adjourned to the plant's meeting room where refreshments were waiting. GMATV's Judy Baker had gone all out, even making a special cake commemorating my trip and welcoming me to the facility. I've mentioned this before in other entries in my daily diary, but I'll say it again - I never expected that the little adventure I had planned would turn out to be an "event" like this. Another thing to consider is this - the engineers work in labs in Indiana and Michigan. They don't have the opportunity to see EV1's on the street every day, being driven by a happy group of satisfied owners (lessees). California and Arizona where the car is available are a long way from Indiana and Michigan. I could tell they were really happy that I'd brought my car back home for a "visit."
To see photos and descriptions of my tours at GMATV, click here.
Overwhelmed with information and a deep appreciation for the efforts that go into making the EV1, I am more impressed than ever that this amazing car has performed so well in the months that I've driven it. It's hard to believe that this all new emerging technology can be so reliable. No gasoline powered car I've owned has been as trouble-free as my EV1, even though I'm sure similar testing procedures are used during development of ICE (internal combustion engine) cars too. The flawless performance is not a fluke, it's a tribute to everyone responsible for the design, testing, and manufacture of the car that's the key to the transportation technology of the 21st Century, the EV1.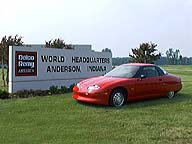 Next stop, Delco-Remy America in Anderson, Indiana. GM no longer owns this division which was a familiar name on electrical parts for GM cars for decades. Now an independently owned company, Delco-Remy designs and manufactures starters and alternators for ICE vehicles. While my EV1 charged up in the spotless training center, I was given a tour of the testing facility where components are brutalized to insure durability. No wonder even conventional cars are more reliable themselves these days with torture tests like I saw here!
| | |
| --- | --- |
| | Continuing north from Indianapolis on Interstate 69, I stopped in the small town of Markle, Indiana for a short charge. Although I may have been able to make it to Ft. Wayne without recharging, I didn't want to take a chance. Unfortunately, the local electric cooperative didn't have a readily available source of 220 volt power. Once again, I searched out the local fire department. Although the station didn't have a 220 volt outlet, the captain graciously invited me to his home a short distance away to plug in there. I am really gratified that my EV1 and I have received support like this across the country. With this kind of help, it's becoming pretty obvious that I'm going to succeed in making it to my final destination on schedule. After a short charge in Markle, I drove the final 33 miles of the day to Ft. Wayne where I spent the night at the Best Western Luxbury Motel. I plugged the EV1's 110 volt convenience charger in for the night, and headed straight to bed. Tomorrow should be fun - I'm going to meet one of the men that was deeply involved in the PrEView Drive program with the EV1's predecessor, the Impact. |
---
Trip Log
Note: Due to the frequent stops for tours and charging at EV1 productions facilities, I decided not to use precious time filling in my charging information log today.
Normal logging will resume tomorrow.
Departure
Point

Charging
Stop #1

Charging
Stop #2

Charging
Stop #3

Charging
Stop #4

Town or City

Terre Haute, IN

Indianapolis, IN

Anderson, IN

Markle, IN

Ft. Wayne, IN

Elevation

Odometer

Trip Odometer

17,082

17,163

17,209

17,261

17,294

Driving Notes

Grades Encountered

Charging Information

Charge Start Time

11:00 PM

Charge End Time

8:30 AM

Charge Duration

9h 30m

Charging Facility

Best Western Luxbury Hotel

Contact Name

-

Charger Type

6.6kw/240v

6.6kw/240v

6.6kw/240v

6.6kw/240v

1.2kw/120v

Charge Indicator
(In Bars/11=100%)

2 start/9 finish

Charge Start (%)

Charge Stop (%)

Ambient Temp (°F)
Weather Conditions

80°

Approx. Miles to Next Charging Stop
and Known Grades

60 miles - flat
---
BACK to Daily Diary HOME page