DAY 2
5/13/98

---
Indio, CA to Blythe, CA
Total Miles: 102
Progress Maps: Close Detail | USA View
---

I awoke to a gorgeous desert morning - an incredibly blue sky with only a few puffy clouds, and no rain in sight. At 9:00 am it was already 70° outside, perfect weather for driving the next leg of my trip to Blythe, California. The morning TV news shows had reports about continuing bad weather in Los Angeles, including a tornado in Long Beach. Here in the desert only 120 miles east, the weather was ideal.
The drive today is a short one - only 102 miles. I purposely scheduled the first two days to have shorter drives. Having no experience with an EV1 on an extended trip, I didn't want to stress myself or the car. I know there would be some potentially challenging grades to deal with both days. Of course the EV1 has more than ample power to climb hills. I was more concerned about the rapid depletion of the battery pack during the climbs. As it turned out, the charging stops I planned for gave more than enough cushion to help me achieve my number one goal: "never run out of juice!"
Team leader Richard Pentz at Saturn of the Desert made an ominous prediction about today's drive. The drive on I-10 east from Indio (-17 ') to Chiriaco Summit (1710 ') is a notorious car killer. It's a steep and winding climb over the infamous San Andreas Fault with some portions at an 8% grade. He was certain that there was no way an EV1 could climb the summit and drive an additional 22 miles to sleepy Desert Center on one charge. I had already prearranged a source of 240 volt power at Desert Center. In the end, my EV1 again performed flawlessly, taking me over the summit and getting to Desert Center with plenty of charge remaining (3 out of 11 bars max. still available).The trick that works for me is to moderate the accelerator to never allow the Power Use gauge to peak over 7 bars (out of 11 available). At 5 - 6 bars, that equated to 45-50 mph on Chiriaco, still within legal interstate minimums. If the driver is in a hurry and wants a speed rush, the EV1 will come through with lots of power, but at the expense of driving range. Not a recommended practice in the middle of nowhere! As I was climbing the grade I saw 2 broken down cars, including a fairly new BMW. Overheating is a common problem here, except for the EV1 which has no radiator or cooling water to boil over.
My friend Roger Irland makes the trip between Los Angeles and Phoenix frequently. Weeks before my trip began, I asked him to scout out a charging location in Desert Center, halfway between Indio and Blythe. Roger gave me the phone number of Desert Center Towing. The proprietor Rodger Ragsdale was eager to help. Down a dirt road to the rear of Rodger's workshop was a proper 240 volt receptacle. A welcome sight! I removed my 75 lb. MagneCharger from the trunk and used it here for the first time on the trip. Since the downhill drive to my final destination for the day was only 50 miles, I elected to do a 2 hour partial charge. With time to kill, I headed back over to the cafe to have lunch.
Rodger Ragsdale's grandfather Stanley founded the current location of Desert Center in 1922. US highway 60 was built in the 1920's to take travelers from Los Angeles to Phoenix, and Desert Center was there to serve their needs. Summer temperatures here often reach 130°! A cafe, service station, and general store in this desolate furnace must have been a welcome sight back then. Although the temperature was only a pleasant 85° today, I was glad that Rodger was willing to help me out with my unusual request. He couldn't recall anyone ever asking for a source of 240 volt power before! He only condition was that I photograph my EV1 next to his 1916 REO. Both cars were built in Lansing, Michigan. Now that Interstate 10 has bypassed Desert Center, the old gas station is long since closed, with the old Chevron pumps still offering leaded premium gasoline for 39.9 cents a gallon. The Desert Center Cafe has been open 24 hours a day, 7 days a week, 52 weeks a year since 1922. It's a time warp complete with a 1934 calendar. I highly recommend a stop here - they serve a great Ortega Chili Burger.
There were lots of photo opportunities in Desert Center - I spent more than here than planned, but since today's drive is one of the shortest on the trip, I took my time and enjoyed the desert serenity.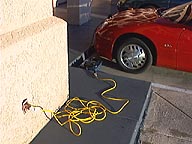 The 50 mile drive to Blythe was uneventful. Some people are bored with desert scenery, but I find it to be relaxing. When I arrived in Blythe, I canceled my reservation at the Super 8 motel and switched to the new Holiday Inn Express which had convenient outside electrical outlets - perfect for plugging in the EV1's small overnight convenience charger. No need to use the big 240 volt charger here. Tomorrow would be a big milestone on the trip because Blythe is only a few miles from the Colorado River and the Arizona border. Next stop: Phoenix, Arizona.
---
Trip Log
Departure
Point
Charging
Stop #1
Charging
Stop #2
Town or City
Indio, CA
Desert Center
Blythe, CA
Elevation
-17
906
267
Odometer
14468
14521
14570
Trip Odometer
0
52.7
50.1
Driving Notes
-
Saw 2 broken down ICE cars including a new BMW on Chiriaco Grade. This is a steep climb from -17' to 1,700'. The downgrade to Desert Center is hardly noticeable. Rolling hills.
Coasted down at 70 mph
Grades Encountered
-
Chiriaco Grade
Constant Downgrade
Charging Information
Charge Start Time
Overnight
1:15 PM
18:05 PM
Charge End Time
-
2:50 PM
9:00 AM
Charge Duration
1h 35m
9h 0m
Charging Facility
Super 8 motel
Desert Center Towing
Holiday Inn Express
Contact Name
-
Rodger Ragsdale
(has convenient outside 120v outlets)
Charger Type
1.2kw/120v
6.6kw/240v
1.2kw/120v
Charge Indicator
(In Bars/11=100%)
11
5
3
Charge Start (%)
99
33
23
Charge Stop (%)
92
84
Ambient Temp (°F)
Weather Conditions
85°
85°
75°
Approx. Miles to Next Charging Stop
and Known Grades
53 miles. Chiriaco Summit 1700'
46 miles down to Blythe (267')
-
---