DAY 4
5/15/98

---
Phoenix, Arizona to Sedona, Arizona
Total Miles: 125
Progress Maps: Close Detail | USA View


---

Up until now, I have been driving on an easterly course on Interstate 10 from Los Angeles, with a brief detour onto old US 60. Today I drive north on Interstate 17 then connect to Arizona state highway 89A to legendary Sedona and Oak Creek Canyon. I spent the night at the home of my old friend Doug Huth. The was the first time I would charge my EV1 using a typical 220 volt electric dryer outlet. When we plug our television or vacuum cleaner into a 115 volt wall outlet, we know that the plug style will always be the same familiar standard plug. No such luck with 220 volt plugs. There are a wide variety of incompatible 220 volt plug styles which deliver varying amperages of power, with prongs in many patterns. My electrician friend Charlie Barsamian and I spent a lot of time shopping for plugs that we could use to make adaptors for the NEMA 14-50 plug that I opted to use on my own 6.6 kilowatt 220 volt MagneCharger. Although the unit typically pulls 29 amps maximum at full power, GM recommends a 40 amp circuit to give an extra measure of protection. Since most homes that have 220 volt outlets rarely have circuits above 30 amps, I was relieved to hear that many EV1 owners have successfully operated their chargers on 30 amp electric dryer circuits. So far on this trip, I've had to use three different adaptors to connect my charger - good thing I brought them!
The Phoenix EV1 Club offered to escort me out of town. We assembled at the Texaco Star Mart near the Deer Valley Road exit off of I-17 at 7:30 am (yet another Texaco station with free EV1 charging facilities). A local Phoenix television station stopped by to cover our departure. EV1's always attract attention with their unique styling, and such a large armada traveling up I-17 was quite a sight. Most of the EV1's followed me about 10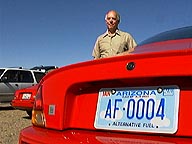 miles north before heading back to Phoenix, but Ed Battershell stuck it out and drove with me all the way to my next charging stop at Black Canyon City. I needed a full charge here, because within a mile I would be climbing a grade that had concerned me from the minute I began planning this trip. The Black Canyon Grade is a winding 6 to 8% grade monster, legendary among locals. The warning signs to turn off a/c were a clue that overheating on internal combustion engines is common here. There are no such problems on an EV1, but fighting gravity on a long, steep grade like this one could suck the power out of the car's batteries very quickly, and I always worried that my trip could end right here if I couldn't make it over the top on one charge. I needed to be sure that my EV1 was fully charged before attempting this hill, and Pam Seymore from Arizona Public Service (APS) was again on hand with not only 220 volt power, but a 6.6kW MagneCharger. This will probably be one of the most unusual charging locations on my trip. Because an available source of 220 volts could not be located in the area, Pam arranged for APS linemen to drop a line from a power pole near an exit on I-17. The guys painted the box bright red so we could find it. In the box was the proper 14-50 receptacle ready for the charger. Pam brought along an electric-powered skateboard, and her children Chad and Amanda along with Ed Battershell and I passed the charging time riding up and down a nearby hill.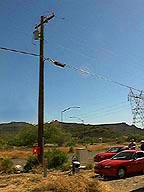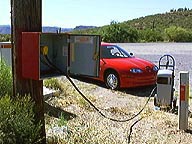 I said goodbye to Ed, and Pam went on to Sedona with her children. Black Canyon Grade turned out to be no match for a fully charged EV1. I maintained a steady 45-50 mph going up the hill, passing a number of trucks and a steaming overheated Explorer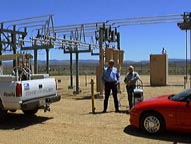 on my way to the top. 19 miles later I arrived at my next charging stop with plenty of charge remaining in the batteries, again in an unusual location near Cordes Junction, Arizona. Rich Landon from APS who I had met a Rip Griffin's Travel Center and Gene Miller also from APS were waiting for me at an electric substation literally in the middle of nowhere. I traveled a dirt road off of I-17 for a mile or so, and drove past a sea of transformers and high voltage power lines to a waiting MagneCharger. Rich has been involved in APS' electric car program for several years, and is a wealth of information about EV's and battery technology. We had a great chat and as usual the charging time passed quickly. It has become obvious to me that I like traveling like this. Instead of the boredom associated with long stretches of Interstate driving, it is truly a pleasure to stop more frequently and talk to locals like the folks in Desert Center, California and Rich and Gene here in Arizona.
I showed Rich and Gene the set up in my EV1 for this trip. My Macintosh PowerBook (thanks to Mike Descher and Apple Computer) fits perfectly on the center console, and I could easily see my position on the computer's screen using DeLorme's Street Atlas USA software and their accompanying TripMate GPS (Global Position System) satellite receiver (that's the yellow unit you see in the back window photograph). I've rarely referred to paper maps on this trip. Since the trunk is occupied with the big 6.6kW charger and extension and adaptor cables, my suitcase and other personal items are on the shelf above the battery compartment behind the seats.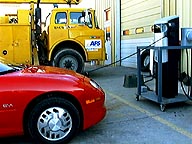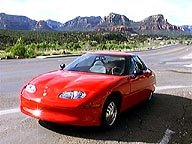 After one hour of charging up to 89%, I set off for Cottonwood, 25 miles south of Sedona on Arizona state highway 89A. Here, I left my EV1 to charge at an APS maintenance yard while Pam Seymore and I headed off to Sedona where I napped for a few hours at my motel. The hours of full driving days and late nights working on this website have left me a little pooped! We returned to Cottonwood a few hours later to retrieve my fully charged EV1 and showed it off at an APS sponsored charity event in Cottonwood. Then back to Sedona for a much needed car wash and dinner. I selected the Iris Garden Motel because they offered the use of an outside 115 volt electrical outlet for me to connect the small 1.2 kilowatt "convenience charger" to top off the batteries overnight. I needed a full charge to climb yet another major elevation challenge. I started out this morning in Phoenix at 1,100 ' and ended the day in Sedona at 4,500 '. Tomorrow a steep climb out of spectacular Oak Creek Canyon to 7,200' then to Flagstaff at 7,000'. The day I had dreamed about for months was at hand tomorrow -- driving my EV1 to the rim of the Grand Canyon.
---
Trip Log
Departure
Point
Charging
Stop #1
Charging
Stop #2
Charging
Stop #3
Charging
Stop #4
Town or City
Phoenix, AZ
Black Canyon City, AZ
Cordes Junction, AZ
Cottonwood, AZ
Sedona, AZ
Elevation
1100
1800
3500
3400
4500
Odometer
14788
14830
14849
14888
14913
Trip Odometer
0
42.3
19.0
38.9
25.2
Driving Notes
Leave @ 7:10 AM
Interstate 17: 240v power drop and charger @2nd Black Canyon City exit. Power pole with red box at Maggie Mine Rd.
Steep winding grade. Levels off for 2 miles or so, then resumes climb. Held 7 bars power use continually
-
-
Grades Encountered
-
700 ' upgrade from Phoenix
Black Canyon grade 7 miles @ 6-8%
6-7% downgrade 7 miles
Climb 1,100 '
Charging Information
Charge Start Time
Overnight
8:45 AM
10:55 AM
1:00 PM
8:15 PM
Charge End Time
-
10:00 AM
11:55 AM
5:00 PM
5:00 AM
Charge Duration
1h 15m
1h 0m
4h 0m
8h 45m
Charging Facility
Huth residence
APS power drop
APS Cordes substation
APS maintenance yard
Iris Garden Motel
Contact Name
-
Pam Seymore/APS
Rich Landon
Pam Seymore/APS
-
Charger Type
6.6kw/240v
6.6kw/240v
6.6kw/240v
6.6kw/240v
1.2kw/120v
Charge Indicator
(In Bars/11=100%)
11 bars on departure
4 start/10 finish
6 start/10 finish
5 start/11 finish
6 start
Charge Start (%)
34
48
39
Charge Stop (%)
100
88
89
100
Ambient Temp (°F)
Weather Conditions
75°
80°
70°
70°
60° (overnight low 35°)
Approx. Miles to Next Charging Stop
and Known Grades
40 miles--slight 700 ' upgrade
19 miles- Black Canyon Grade 6-8%
45 miles. 6-7% downgrade for 7 miles
25 miles --1,100 ' climb
28 miles. Constant upgrade, then 8% climb for 2 miles
---