DAY 5
5/16/98

---
Sedona, Arizona to Grand Canyon, Arizona
Total Miles: 113
Progress Maps: Close Detail | USA View
---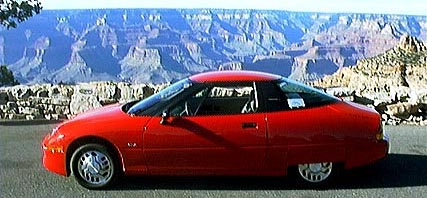 This is the big day I've been waiting for since I first came up with the idea to make this trip in my EV1. The Grand Canyon is perhaps the most beautiful work of nature on the planet. Sadly, the famous views that people from all over the world come to see are clouded by an ugly haze of pollution, as you can see in the photo above. What's the cause? The burning of fossil fuels, naturally. Residents of major western cities like Los Angeles, Phoenix, and Las Vegas shouldn't be fooled by clear days in our cities - a lot of the air pollution created by petroleum-burning cars ends up right here in the Grand Canyon. The EV1 is symbolic of what may one day bring crystal-clear views back to this place. Enough of the soap-box...
When I began to study maps to plan my charging stops for this trip, it was obvious that Arizona would present non-stop challenges. One mountain after another would shorten the driving range of my EV1. Just like your body burns more calories when you walk up a hill, the EV1 or any vehicle uses more energy to overcome gravity. The current batteries in the EV1 have yielded 80 miles+ per charge on fairly flat surfaces, but these hills are nail-biters! Sedona is a beautiful community at the southern end of Oak Creek Canyon. Known for its towering, richly colored rock formations, the land slopes dramatically upward to Flagstaff to the north. Very few if any opportunities exist for charging depleted batteries on the way up to Flagstaff from Sedona. I talked to a number of locals in advance to see if this climb was even feasible in an EV1. I got a wide variety of responses from "no problem" to "no way." In the end, I had no better choice if I wanted to make it to the Grand Canyon. I decided to go for it.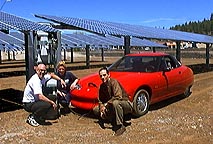 The previous night in Sedona was quite cool, with a low of 45°. Cool weather makes lead-acid batteries less efficient, so I had yet another factor to deal with. I was given a suggestion by an EV1 field service representative before I left Los Angeles that I top-off the batteries 30 minutes before departure on cool mornings - the transfer of energy into the battery pack would warm them somewhat. The combination of a 100% full battery pack and conservative driving techniques got me up Oak Creek Canyon to Flagstaff with ample charge remaining. Yet again, Pam Seymore and APS were ready to provide me with a charge. This time, I charged at the APS Solar Power Generating Facility in Flagstaff. How incredible to make the final push to the Grand Canyon using energy from the sun! Michael Monti, owner of Monti's La Casa Vieja restaurant in Phoenis was in Flagstaff on business. Michael drives an EV1 and provides two EV1 charging stations at his restaurant in Tempe.Greg Hughes and Brad Brinkman from APS were on hand to help us with our needs.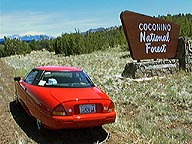 Driving on US 180 north from Flagstaff to the Grand Canyon, I got an unanticipated surprise. My maps indicated that Flagstaff's elevation was 7,000' and the Grand Canyon south rim was 6,800'. What wasn't indicated on the maps is that there is a major climb to 8,046' between the two! Twenty miles of upgrade had me wondering if I would make it to Valle, where Pam Seymore had made arrangements for an intermediate charge at Fred Flintstone's Bedrock City. She only knew of 115 volt power availability there, which could mean a long, long charge time if I needed extra energy to get to the Grand Canyon. Well, as the saying goes "what goes up must come down," and the 30 mile coast down the other side of the big hill actually restored 2 bars of energy back into my EV1's battery pack.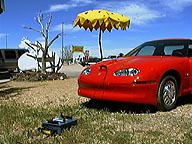 I charged up for a short time at Fred Flintsone's Bedrock City using my small 115 volt convenience charger, while owner Linda Speckels treated myself, Pam, and her two children Amanda and Chad to a free entrance into the park. Since I will return to Valle tomorrow for another charge after I leave the Grand Canyon, I'll show photos of Bedrock City on Day 6. I'm glad I charged for the short time at Valle - I arrived at Grand Canyon Village with only 1 bar of power remaining - the charger showed only 3% full. That's closer than I intend to cut it for the rest of the trip.


On US 180 between Valle and the Grand Canyon,my EV1's odometer passed the15,000 mile mark.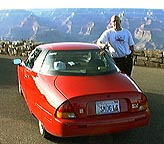 Thanks to the efforts of APS Grand Canyon Supervisor Don Keil, the National Park Service allowed me to charge my EV1 at their facility at the Canyon. I took Grand Canyon News reporter Jerry Herman for his first ride in an EV1 and we stopped at a few scenic overlooks to take in the majesty of the canyon. Jerry exhibited the "EV1 smile" that all of us who drive EV1's have come to anticipate. Tomorrow, it's back to Flagstaff for another solar charge, then I head east on I-40 and part of famous Route 66.

---
Trip Log
Departure
Point
Charging
Stop #1
Charging
Stop #2
Charging
Stop #3
Charging
Stop #4
Town or City
Sedona, AZ
Flagstaff, AZ
Valle/Bedrock City
Grand Canyon Village, AZ
Elevation
4500
7000
6150
6800
Odometer
14913
14945
14997
15026
Trip Odometer
0
31.9
52.1
28.3
Driving Notes
Leave 8:05 AM Major elevation changes on today's drive. Between 8 AM and 3 PM, I'll drive from 4,500 ' to 8,046 ' and back down to 6,800 '
Constant upgrade from Sedona, then 8-10% grade for 2 miles exiting Oak Creek Canyon, continuing climb to 7,100', down to 7,000 ' @ Flagstaff
Constant headwind, gusts to 30 mph +
Constant 20-30 mph crosswind
Grades Encountered
-
see above
52 miles - 20 mile climb to 8,046 ' then 30 miles down to 6,150 '
Climb from 6,150 ' to 6,800 '
Charging Information
Charge Start Time
Overnight
9:55 AM
1:55 PM
3:40 PM
Charge End Time
-
12:20 PM
2:35 PM
9:00 PM
Charge Duration
2h 25m
0h 40m
5h 20m
Charging Facility
Iris Garden Motel
APS Flagstaff Solar Generating Facility
Bedrock City
National Park Service facility
Contact Name
-
Greg Hughes/Brad Brinkman
Linda Speckels
Dan Keil, APS Supervisor for Grand Canyon/NPS Ranger Fred Perl
Charger Type
1.2kw/120v
6.6kw/240v
1.2kw/120v
6.6kw/240v
Charge Indicator
(In Bars/11=100%)
FULL
2 start/11 finish
5 start/5 finish
1 start/11 finish
Charge Start (%)
18
3
Charge Stop (%)
96
100
Ambient Temp (°F)
Weather Conditions
45°
50°
75°
65°
Approx. Miles to Next Charging Stop
and Known Grades
28 miles -- steep climb to7000 ' @ Flagstaff
52 miles - 20 mile climb to 8,046 ' then down to 6,150 '
28 miles, slight climb
-
---