DAY 6
5/17/98

---
Grand Canyon, Arizona to Chambers, Arizona
Total Miles: 226
Progress Maps: Close Detail | USA View
---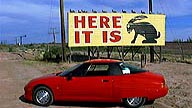 ---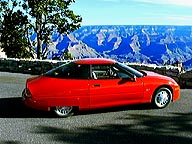 One last look at the Grand Canyon, this time in early morning light, before heading back to Flagstaff and points east on Interstate 40 and US Route 66. I'm fascinated with the history of this famous highway, and am looking forward to traveling parts of it in a car that would never have been imagined when this road was the king of American highways.

At the intersection of Arizona state highway 64 and US 180 sits the tiny town of Valle (pronounced "valley") A motel, gas station, and curio stands are found here, but the real highlight is Fred Flintstone's Bedrock City. Owner Linda Speckels and her late husband built this replica of Fred and Wilma's cartoon hometown over 20 years ago. A small cafe and gift shop are part of the complex. I pulled my EV1 up next to Fred Flintstone's electric car. Apparently he switched from footpower to electric drive, and I couldn't resist the opportunity to photograph both electric vehicles side by side. Linda graciously allowed me to use the 220 volt electric dryer outlet in her nearby residence to charge my EV1. Yesterday on the way to the Grand Canyon we stopped here for a short time and used the small 115 volt "convenience charger" to give the batteries a little boost. But this time I felt that I'd need nearly a full charge to make the 30 mile 2000 foot climb between Valle and Flagstaff - it would have taken many hours for the little charger to give the batteries enough of a boost to get me over that big rise. With the big 220 volt unit, the job was done in 55 minutes. I felt that a 94% charge would be sufficient - it turned out that less might have been disastrous!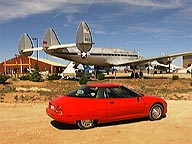 Before continuing south on US 180, I stopped at Valle's little airport to check out the late General Douglas McArthur's personal airplane. The famous General from World War II's plane is still operational and is beautifully appointed.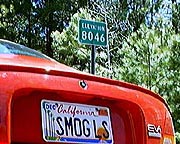 The climb to 8,046 feet from 6,150 feet occurs over nearly 30 continuous miles traveling from north to south, with a 20 mile down slope into Flagstaff. Driving the other direction yesterday and coasting and regenerating down the 30 mile rise gave me a sufficient charge to make it to the Grand Canyon. Going the opposite direction today, I made it into Flagstaff with only 2 bars out of 11 remaining on the gauge (14% full). I was beginning to look forward to the long down slope ahead east of Flagstaff!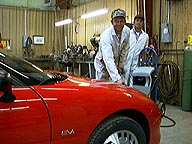 Relieved that I made it back to Flagstaff, I charged up at the APS facility, thanks to the friendly assistance of Greg Hughes and Brad Brinkman. Tomorrow I'll be out of Arizona and I'll need to start using my own 220 volt charger. Fortunately, I've lined up virtually all of my power sources in the states ahead of me. Since the EV1 is not yet available outside California and Arizona, I'll need to start using my own charger. Hopefully if all goes as planned, I'll remove the charger, extension cable, and adapter cables from the trunk and hook up to the prearranged 220 volt power sources.
With a nearly full battery pack (96%), I steered my trusty EV1 onto Interstate 40 eastbound and a long downhill run. I had originally planned an intermediate charge in Winslow, Arizona, 58 miles east of Flagstaff. But the EV1 was getting tremendous range, so I bypassed Winslow and headed for Holbrook, AZ, 90 miles east of Flagstaff. This was the greatest distance between charges I'd ever obtained on my EV1. Will I get even better range later? It will be interesting to see. I'm getting a really good feel for how to drive this baby to maximize its range. More on that at another time.
Between Winslow and Holbrook, Arizona, I left Interstate 40 and traveled on old US Route 66 for awhile. Known affectionately as "The Mother Road," the highway originally connected St. Louis, Missouri with Santa Monica, California. Traveling through plains and deserts, this famous route brought many dreamers to the promised land in California during it's heyday. When Interstate 40 completely superceded Route 66 a few years ago, much of the old road was destroyed and made impassable. Fortunately, there are still many stretches where nostalgia buffs like me can relive those innocent times when travelers had no choice but to travel through the towns large and small along the route. The Interstate route bypassed these towns, and many of them have shriveled up and died.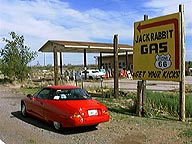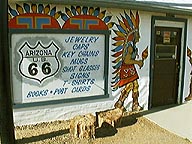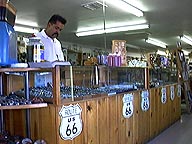 Just west of Joseph City Arizona is the lonely Jackrabbit Trading Post. First opened in 1949, this place is a must for anyone wanting a taste of old Route 66. Lots of souvenirs including "Route 66 Root Beer." Owner Tony Jacquez took the place over from his father a few years ago. The original owner who sold the Jackrabbit to Tony's dad is still alive, but in failing health.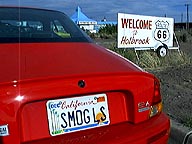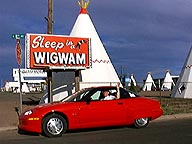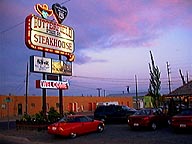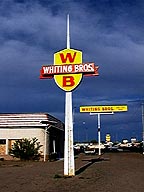 The next charging stop is my last at an APS facility. This time, in Holbrook, Arizona - the spirit of Route 66 lives on in this town! After charging in Holbrook and enjoying dinner at Butterfield's Steakhouse, I zipped off in my EV1 to the final destination on this long day on the road - the Best Western Chieftain Motel in Chambers, Arizona. Manager Kathy Simshauser agree to let me plug my charger into one of the 220 volt 30 amp dryer receptacles in her guest laundry. Luck would have it that this busy motel happened to have a parking space open next to my room, which was near the laundry. I wanted to keep a watchful eye on my EV1 with that expensive charger sitting out in plain view. Of course, I didn't have any problems - just lots of curious admirers the next morning. Tomorrow, into the Land of Enchantment - New Mexico.
---
Trip Log
Departure
Point
Charging
Stop #1
Charging
Stop #2
Charging
Stop #3
Charging
Stop #4
Town or City
Grand Cyn Village
Valle, AZ
Flagstaff, AZ
Holbrook, AZ
Chambers, AZ
Elevation
6800
6150
7100
5100
5650
Odometer
15050
15083
15136
15227
15276
Trip Odometer
0
32.6
53.6
90.4
48.6
Driving Notes
-
Via Grand Canyon overlooks for morning photography
30 mile continuous climb to 8,046 ', then 20 miles down to Flagstaff-7,100 '
Intermediate charge in Winslow not needed due to excellent range. Detoured onto old Route 66 near Winslow. Many photo ops.
Beautiful desert evening drive.
Grades Encountered
-
-
See above
Ups and downs with downward slope
Ups and downs
Charging Information
Charge Start Time
Overnight
8:05 AM
11:30 AM
6:00 PM
9:45 PM
Charge End Time
-
9:00 AM
2:30 PM
8:10 PM
2:00 AM
Charge Duration
0h 55m
3h 0m
2h 10m
4h 15m
Charging Facility
National Park Service facility
Bedrock City
APS facility
APS maintenance yard
Best Western Chieftain Motel
Contact Name
Dan Keil-APS/Fred Perl-NPS
Linda Speckels
Greg Hughes/Brad Brinkman-APS
Randy Johnson/APS
Kathy Simshauser, manager
Charger Type
6.6kw/240v
6.6kw/240v
6.6kw/240v
6.6kw/240v
6.6kw/240v
Charge Indicator
(In Bars/11=100%)
11
7 start/11 finish
2 start/11 finish
2 start/11 finish
4 start/11 fi nish
Charge Start (%)
100
61
18
13
32
Charge Stop (%)
94
96
91
100
Ambient Temp (°F)
Weather Conditions
50°
60°
65°
85°
60°
Approx. Miles to Next Charging Stop
and Known Grades
28 miles
53 miles - 30 mile climb to 8,046 ', then down to 7,000 '
90 miles down to Holbrook - note altitude change
47 miles with gradual climb
45 miles, failly flat
---