DAY 7
5/18/98

---
Chambers, AZ to Albuquerque, NM
Total Miles: 207
Progress Maps: Close Detail | USA View
---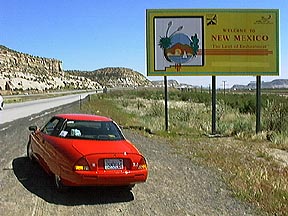 The last hour or so of the drive yesterday was in the dark. The moon was not out, and it was absolutely pitch black in the eastern Arizona desert. The stop for the evening was as the Best Western Chieftain Motel in Chambers, Arizona near the state's border with New Mexico. This was my only charging stop in Arizona where I wasn't at an APS facility. I hauled my 75 pound 220 volt wall mount charger out of the trunk for the first time since Desert Center, California. This unit is not intended for portable use, but it's sure nice that it fits into the EV1's large trunk with plenty of room to spare, even with the wheels and handle that I added to it. Fortunately, the trunk opening is rather low compared to most cars, making it less difficult to take in and out of the car. When I organized my charging stops weeks earlier, I contacted the Chieftain's manager Kathy Simshauser. She offered the use of one of her public laundry room's 220 volt dryer plugs for my needs, and even mailed me a sketch of the receptacle so that I could supply the correct adapter which turned out to be a common 220 volt 30 amp dryer plug. I suspect that this is the first of many times I'll need this adapter on my trip.
I let Pam Seymore and APS of the hook for this charge in the northeastern edge of the state. After all, I needed to get accustomed to using my own charger, so why not get started here. APS had been extremely gracious by providing both 220 volt power as well as chargers at all my other stops in this EV challenging state. But it was time to move on into the other states where the EV1 has only been a newspaper story, magazine article, or TV news feature.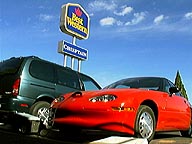 This morning was crystal clear and breezy, with a temperature of around 70°. I had breakfast in the Chieftain's restaurant - maybe the largest omelette I've ever seen! Since the EV1's trunk is being used to haul the big 220 volt charger, adapter cables, and other odds and ends, I placed my suitcase behind the driver's seat on the shelf above the battery compartment. In spite of the car's small size, it's amazing how much I was carrying. I organized items that I might want to have access to while driving in such a way that I could get to them easily without a struggle while driving, such as Jeff Church's altimeter, my small ice cooler, and an assortment of compact discs. The EV1 has an excellent sound system, and I took advantage of it during the long desert stretches. I rarely listened to the radio out here in the desert - not much of a selection of stations to my liking. I should mention that the EV1's radio antenna is an unusual design. In order to reduce wind drag to the minimum, the antenna is invisibly placed between the headliner and the roof of the car, out of sight.
| | |
| --- | --- |
| | |
Before long, I entered New Mexico, with highway signs stating that I was leave the Navajo Indian Reservation. The desert was beautiful in this area, with richly colored cliffs all around. A slight climb took me into Gallup, New Mexico. Almost every exit on Interstate 40 in the area will empty into old Route 66, and Gallup is no exception. There are lots of shops with Indian souvenirs for sale, and Gallup is a nostalgia buff's dream come true. The town is a time warp to the past when Route 66 was the main link from Illinois to the Southwestern United States. I arrived at an unlikely location to charge an electric car - the Gallup KOA (Kampgrounds of America). It's a great coincidence that large motor homes use 50 amp 220 volts, and many RV parks are equipped to supply their needs. In fact, I won't need an adapter cable here - the outlet is the same style as I installed on my charger, a NEMA 14-50. Gallup KOA employee Charles Diaz was excited to see my EV1 and allowed me to use a prime spot in his Kampground under a shade tree. The New Mexico sun was blazing and it was quite windy. The KOA didn't charge me to use the space while I charged for three hours.
| | |
| --- | --- |
| | |
Gallup is the first charging stop to be organized by Lori Lindquist of CSW (Central and Southwestern Corporation) in Tulsa, Oklahoma. CSW and its sister electric utilities is an energy provider in Texas, Oklahoma, Arkansas, and Louisiana. CSW's Tonya Shadduck was my original contact, and she asked Lori to work me with me on this project. Although New Mexico is outside CSW's service area, Lori graciously offered to help me arrange my charging needs in New Mexico as well. The enthusiasm and spirit of cooperation I have been getting is amazing and gratifying. Lori agrees that most of the public is uninformed about electric vehicles, and is anxious to help me demonstrate their usefulness. One of my prime goals on this trip is to demonstrate that electric vehicles are more than golf carts - they are reliable, comfortable transportation. My trip is unorthodox in that I've prearranged all my "refueling" needs in advance, but this simply illustrates that if charging infrastructure is made available, electric vehicles can eventually supplement petroleum powered transportation. The theme I'm constantly relating to folks as I travel is the need to conserve oil products for other uses than moving cars and trucks on our streets and highways. In the next century as oil production declines, future generations will need to use oil products for chemicals, plastics, paints, and the thousands of other applications we take for granted. Internal combustion is not the only way to move vehicles, and my trip proves it. Electric cars will soon have longer range and larger seating and cargo capacity. The EV1 is the first of many modern electric vehicles to be introduced by a major manufacturer. Virtually every major auto manufacturer is developing them.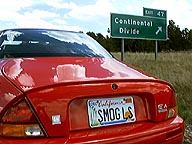 After receiving a nearly full charge in Gallup, I headed back into I-40. Within a few miles I would traverse the Continental Divide, the division of water flow that separates the eastern and western halves of the country. On the western side of the mountain range, river water flows to the Pacific Ocean, and the eastern slope rivers flow to the Gulf of Mexico. The Continental Divide requires considerable climbing on some of the northern highways that cross it, but here on I-40 a relatively modest 700 foot climb from Gallup takes me to Grants, New Mexico on the eastern side of the Divide.


I had some difficulty with the utility in Grants that had been prearranged for me. Apparently they didn't have a readily available source of 220 volt power as I found out in a phone call from Gallup. The folks at the Gallup KOA suggested I call the Cibola Sands RV Park in Grants which also had 220 volt RV hookups. A call to Paul Weintritt, the friendly owner of the Cibola Sands, yielded an enthusiastic "sure we'd like to help you out" response. Paul and I had a spirited discussion about the merits of electric transportation. He rightfully feels that infrastructure will need to be developed to make them practical, and we talked about the merits of different methods of generating electricity such as wind, solar, nuclear, and fossil fuels. I took the opportunity here at the Cibola Sands to work on this website. Thanks again to Apple Computer for offering the use of this PowerBook laptop computer. As you can see in the photo, it's coming in handy. All the photos on these Daily Diary pages were taken with the QuickTake 200 digital camera furnished by Apple. I'm beginning to appreciate the merits of digital photography! The long driving days and complexity of this website are leaving me with less sleeping time than I'd like to have. This is the first time I've designed a website, but I'm beginning to pick up speed. Assembling web pages can be a bit tricky, but I'm using Adobe PageMill software to avoid the pain of working with raw HTML code. Even using PageMill, it's frustrating to see the page format change when viewing my web pages in Netscape and Internet Explorer. What you see in PageMill isn't always what you get in a web browser! Opportunities are rare to spend time working on the site other than late nights and early mornings in motels, so I was glad to have some time to catch up here in Grants.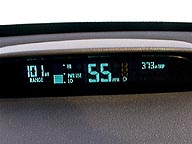 By 6:00 pm, I had packed up the charger and was ready to head off to Albuquerque. This stretch of road has had me a bit nervous from the time I started planning the trip. There are eighty miles of desert between Grants and Albuquerque, with little in between but for a few Indian reservations. This would be stretching the EV1's driving range to the maximum. Obviously, running out of battery charge here would be a disaster to avoid at all costs. Fortunately, the land slopes down from the Continental Divide, although there are still many hills to climb as the road works it's way down to Albuquerque. Down slopes require less energy to be consumed, regardless of what kind of vehicle you're driving. I was counting on gravity to work in my favor to get me to Albuquerque without problems. I was extremely surprised to arrive there with 27% charge still remaining in the batteries and an additional 30 miles indicated on the range gauge, even after climbing numerous hills. Notice the readings on the instrument panel in the accompanying photo taken 37 miles east of Grants. From left to right: 101 miles estimated range remaining, 5 bars on the "power use" gauge, 55 mph speed, forward drive gear selected, 37.3 miles on the trip odometer.
| | |
| --- | --- |
| | |
My worries were over since there were no problems reaching Albuquerque. When the city came into view, I was surprised to see what appeared to be smog. While there is no doubt that air pollution exists in a growing city like Albuquerque which is surrounded by mountains, it turns out that forest fires burning in Mexico were responsible for the haze this evening, visible behind the Interstate highway sign above.
Eagerly waiting to provide me with a charge in Albuquerque was Doug Taylor, director of the Alternate Fuel Vehicle Program for the Public Service Company (PSC) of New Mexico. I was given Doug's name as well as most of my other contacts with electric utilities by Kateri Callahan and Chris Hardin of the Electric Transportation Coalition in Washington, D.C. I left my EV1 in PSC's garage, and spent the night at the nearby Red Roof Inn. Across the street I was delighted to find a Waffle House restaurant. I first encountered this restaurant chain on a driving trip from Los Angeles to Key West, Florida ten years ago. In the southeastern part of the U.S., Waffle House's are as prevalent as McDonald's - they're everywhere. I've never understood why we don't have them in California, because their waffles are the best I've ever eaten, and their prices are cheap and the service is consistently excellent. I wasted no time ordering a pecan waffle before retiring for the night. Tomorrow - one last major climb, then downhill all the way to the states of the Great Plains.
---
Trip Log
Departure
Point
Charging
Stop #1
Charging
Stop #2
Charging
Stop #3
Town or City
Chambers, AZ
Gallup, NM
Grants, NM
Albuquerque, NM
Elevation
5650
6500
6600
5200
Odometer
15276
15320
15386
15483
Trip Odometer
0
44.5
65.4
80.2
Driving Notes
-
-
Charge indicator and range gauge show that the EV1 getting is getting outstanding range.
Grades Encountered
-
Climb 900 ' to Continental Divide. Ups and downs both sides of divide
Downward slope with constant ups and downs.
Charging Information
Charge Start Time
Overnight
10:35 AM
3:20 PM
9:05 PM
Charge End Time
-
1:35 PM
5:45 PM
? -overnight
Charge Duration
3h 0m
2h 25m
2h 55m
Charging Facility
Best Western Chieftain Motel
Gallup KOA Kampground
Cibola Sands RV Park
Public Service Company of New Mexico -- alternate fuel vehicles facility
Contact Name
Kathy Simshauser, manager
Charles Diaz
Paul Weintritt, owner
Doug Taylor
Charger Type
6.6kw/240v
6.6kw/240v
6.6kw/240v
6.6kw/240v
Charge Indicator
(In Bars/11=100%)
11
6 start/11 finish
3 start/11 finish
3 start/11 finish
Charge Start (%)
100
46
27
26
Charge Stop (%)
97
97
100
Ambient Temp (°F)
Weather Conditions
70°
75°
80°
75°
Approx. Miles to Next Charging Stop
and Known Grades
45 miles -- up 900 '
65 miles over Continental Divide
Ups and downs entire route
45 - long, steep climb out of Albuquerque
---