DAY 8
5/19/98

---
Albuquerque, New Mexico to Adrian, Texas
Total Miles: 250
Progress Maps: Close Detail | USA View
---

Trexler in Albuquerque with PNM's Doug Taylor


Another gorgeous morning. The only inclement weather on the trip so far was in Los Angeles - remember the the song "It Never Rains in California?" El Nino has not relaxed his grip, and it's obvious here in Albuquerque that rain in one place has meant drought in another. It's still quite hazy here with smoke from the forest fires burning in drought-stricken Mexico, a very long way south of here. The Waffle House across the street from the Red Roof Inn tempted me once again - it might be a long time before I'd have a chance to enjoy another incredible pecan waffle! After breakfast, I took a short walk to the Public Service Company of New Mexico where Doug Taylor was unplugging my EV1 after a night of charging at the PNM Alternative Fuel Vehicles garage. Originally from New Jersey, Taylor loves Albuquerque and is here to stay. This fast growing city still has its small town Route 66 charm, with pleasant weather and options for lots of outdoor activities. My friend Doug Huth, who I visited in Phoenix earlier in my trip, recently moved from Albuquerque because of a great job opportunity. His beautiful home on the eastern side Albuquerque on the flanks of Sandia Peak has an incredible view and is a car collector's dream - Doug built a huge garage to house his classic auto collection which includes everything from a Nash to Edsels and Lincolns. I stopped by to make sure his babies were sleeping peacefully. He has reluctantly put the house up for sale and has a big job ahead to move his cars.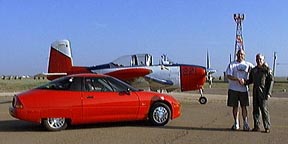 I had been forewarned that Interstate 40 east of Albuquerque would provide my last elevation challenge before heading into the Great Plains. I planned my next charging stop accordingly knowing that the 2,000 ' climb would result in less driving range from the EV1's batteries. I stopped in Moriarty, 45 miles east of Albuquerque. My friend Steve Johnson is an avid pilot who needs no excuse to fly his restored Beechcraft military trainer, and he promised he'd meet up with me somewhere along my route. Steve was on his way from the San Francisco Bay area to Wichita, Kansas to look at a civilian version of his airplane. So far, Steve had flown 801 nautical miles and used 65 gallons of gasoline on the way to Wichita. By comparison, I had driven 1,157 miles from Los Angeles so far and used 0 gallons of gas.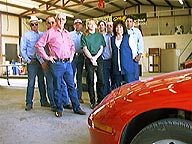 After my brief meeting with Steve at Moriarty's small airport, I was off to the nearby Central New Mexico Electric Cooperative where Danny Tarr and his crew were ready ready with power for my 6.6kW MagneCharger. Danny had published a notice that I'd be visiting Moriarty for a charge, and there were non-stop visitors coming by to see my EV1. Thanks to Pat Ward at GMATV for giving me lots of EV1 brochures to hand out. I was beginning to lose count of how many times I had explained the features of the car! By now it was very obvious that everyone was impressed with how advanced the EV1 is - it has all the features that drivers expect from a modern car and more. Most folks seem genuinely surprised that it is actually in production and available to the public. The number one question is "when can we get it in our area?" GM is test marketing the car in select California and Arizona cities, but the day will come when electric cars and other Advanced Technology Vehicles will be available worldwide.

Next stop - Santa Rosa, New Mexico. One of the busiest charging stops on my trip was planned for this charming community on old Route 66. The science class from a nearby school took a break from final exams to stop by and look at my electric car while it was recharging. From the excitement they showed, I was sure that they were they were going to be talking about the car for quite awhile. Sandy Ridenour and Lance Adkins at Farmer's Electric Cooperative had arranged a lunch with Santa Rosa's mayor Joseph Campos and several community leaders. We feasted on wonderful New Mexican cuisine at the mayor's restaurant, Joseph's Cafe. During the heyday of Route 66, travelers were beckoned to Santa Rosa with billboards showing a smiling, chubby faced man inviting them to eat at the now-defunct Club Cafe. A victim of the I-40 bypass of Santa Rosa, the Club closed its doors a few years ago. Joseph Campos has purchased the place and plans to restore it to its former glory. Route 66 buffs take note!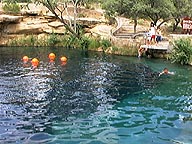 Scuba diving in the desert? Santa Rosa's "Blue Hole" is a sinkhole filled with constantly-flowing pristine spring water, and thousands of divers are attracted to this natural wonder. This part of New Mexico is honeycombed with underground lakes and rivers, part of the same limestone formations that created famous Carlsbad Caverns in the southern part of the state.

Tucumcari sits in northeast New Mexico at the intersection of US highway 54. Known for its many motels, this small community is rich in Route 66 lore. Southwestern Public Service district supervisor Wade Whitehead was waiting for me at Tucumcari's Power Plant. Rarely used these days except in emergencies, this antique plant is remarkably well preserved with several large diesel generators. The town's electricity is normally supplied by the SPS power grid, but Wade occasionally cranks up the restored diesels when demands are heavy or an emergency occurs elsewhere in the system. Wade and his wife Judy treated me to a great meal at Del's Restaurant, then I headed off in my EV1 to enjoy the twilight "magic hour" and photographed some of Tucumcari's famous Route 66 icons.

The EV1 was charged up and ready to hit the road again, so I headed off to west Texas. At the state border crossing, I stopped at a roadside viewpoint to photograph the Texas border sign with the light of my EV1's headlamps. I spent the night in the tiny community of Adrian. The owners of the Fabulous 40 Motel weren't sure if they had a 220 volt power source when I spoke to them a few weeks earlier, so I plugged in the small 110 volt "convenience charger" at the motel which provided a sufficient overnight charge to get me to my first stop the next day, Amarillo, Texas. Texas is known for its hospitality and great beef. I'll get plenty of both tomorrow.
---
Trip Log
Departure
Point
Charging
Stop #1
Charging
Stop #2
Charging
Stop #3
Charging
Stop #4
Town or City
Albuquerque, NM
Moriarty, NM
Santa Rosa, NM
Tucumcari, NM
Adrian, TX
Elevation
5100
6200
4620
4300
4240
Odometer
15483
15528
15607
15667
15733
Trip Odometer
0
45.3
79
59.5
66.1
Driving Notes
Leave 7:20 AM
-
Used air conditioner @ low power/fan speed 4 last 15 miles
-
After dark
Grades Encountered
-
18 mile climb to 7,000 ' then down to 6,200 '
22 mile climb from Moriarty to Cline's Corners, then down to Santa Rosa
Fairly flat
Ups and downs - numerous big hills
Charging Information
Charge Start Time
Overnight
8:45 AM
1:15 PM
5:30 PM
11 PM
Charge End Time
11:20 AM
4:15 PM
7:30 PM
8:15 AM
Charge Duration
2h 35m
3h 0m
2h 0m
9h 15m
Charging Facility
Public Service Company of New Mexico (PNM)
Central New Mexico Electric Cooperative
Farmer's Electric Cooperative
Southwestern Public Service
Fabulous 40 Motel
Contact Name
Doug Taylor
Danny Tarr
Sandy Ridenour/Lance Adkins
Wade Whitehead
-
Charger Type
6.6kw/240v
6.6kw/240v
6.6kw/240v
6.6kw/240v
1.2kw/120v
Charge Indicator
(In Bars/11=100%)
11
4 start/11 finish
4 start/11 finish
6 start/11 finish
2 start/9 finish
Charge Start (%)
29
31
34
Charge Stop (%)
100
95
94
92
75
Ambient Temp (°F)
Weather Conditions
70°
75°
90°
85°
70°
Approx. Miles to Next Charging Stop
and Known Grades
32 miles - long climb out of Albuquerque
75 miles - ups and downs
60 miles -- flat
64 miles -- flat
50 miles -- flat
---