DAY 9
5/20/98

---
Adrian, Texas to Elk City, Oklahoma
Total Miles: 210
Progress Maps: Close Detail | USA View
---

I arrived in Adrian, Texas at 11:00 pm last night. When I had spoken to the owner of the motel by phone a few weeks earlier, she was unsure if 220 volt power was available. Last night when I arrived, I removed the small 110 volt charger from the trunk and plugged it into a socket in the motel room using an extension cord. By the time I was ready to leave Adrian this morning I hadn't received a full charge using the 1.2 kilowatt charger, but I felt that my EV1's batteries had an adequate charge to get to Amarillo, 55 miles east on Interstate 40. If there was anything more to Adrian than the motel and the Route 66 Midway Cafe, I certainly couldn't find it. I suspect that the aging Fabulous 40 Motel was once the Fabulous 66 Motel before the Interstate was built - the place was tired, but acceptable. The sign on the cafe window indicated that Adrian was exactly half way between Chicago and Los Angeles on old Route 66.


I was off through the flats of Texas to Amarillo. A few weeks back, I made arrangements with Amarillo's electric utility to supply my EV1 with 220 volt power for a charge. Ken Vaughan of Southwestern Public Service (SPS) took care of everything. I continue to be very pleased that so many people have agreed to help me get this cross country trip in an electric car organized. Ken arranged for local media to be on hand in Amarillo. NewsChannel 10 reporter Tony Spencer and videographer Mark Dukaj had planned to do a short story for the noon newscast, but were so enamored with the EV1 they ended up spending an hour with me and the car, doing a much more elaborate report. I didn't see the story on the noon newscast, but apparently the nearby Big Texan Steakhouse was impressed enough to invite me over to their famous eatery for a complimentary steak dinner. This is the restaurant that challenges diners to finish a huge 72 oz. steak with all the trimmings - I've heard of the place in California. A had no intention of weighting down my EV1 with all that beef, but the smaller sirloin I devoured was delicious.

With a full tummy and an 84% charge in my EV1's battery pack, I headed east for the town of Shamrock. Since Shamrock was around 90 miles east of Amarillo, I wasn't taking any chances that I would run out of charge on the way, so I planned a short intermediate stop at the small town of Groom, Texas. As it turned out, my EV1 was getting such incredible range that I probably could have skipped the charge at Groom, but Mary at Groom City Hall was looking forward to seeing the electric car, and had notified the local newspaper that I'd be coming. I stopped in Groom for an hour to charge, and had a pleasant interview in the City Hall's adjoining library with a reporter from the Groom News. It was hot and humid outside, but Mary had arranged a nice charging spot in the city's maintenance garage, right next to a 220 volt 50 amp welding outlet.Using the EV1's handy "cabin preconditioning" feature, I was able to chill the car's interior in Groom by using the incoming power from the charger, rather than wasting valuable energy from the batteries to perform the initial cooldown. Very easy to use, you simply set the time you plan to leave, turn "preconditioning" on, and 15 minutes before your departure time, the air conditioner automatically turns on and cools the cabin. When the driver disconnects from the charging source, he turns the a/c power to it's lowest energy saving setting to maintain the temperature. A valuable feature, not unlike many of the EV1's innovations. Muggy days like today are perfect for this feature, which performs a similar task in cold weather by pre-heating the cabin.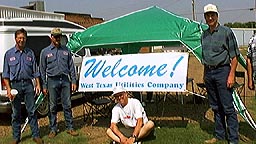 Once again I've got an 84% charge, and I'm off to Shamrock. There was no doubt about the charging location in Shamrock, because there was a large sign welcoming me. The friendly folks from West Texas Utilities (a division of Central and Southwest Corp.) had lots of shade and cold water waiting for me, along with a 220 volt power drop from a power pole.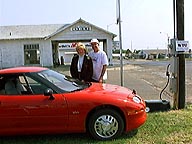 While the EV1 charged up, I fielded questions from lots of folks who stopped by, and posed for numerous pictures with my EV1. I'm not sure that what I'm doing warrants the celebrity-like attention, but people keep thanking me for bringing the EV1 to their town for a charge. Of course, I'm the one who is most grateful. Without the help of people like Deanna Miller, Linda Caton, Sae McAlister, and Tommy Hudson of WTU, I'd be spending a lot more time rooting out sources of 220 volt power to operate my charger. As it is, everyone has been more than happy to help. Again in Shamrock, Texas beef is on the menu, as I was treated to an incredible steak dinner at a local
steakhouse.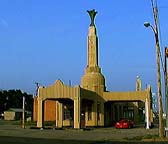 Shamrock is yet another small town on Historic Route 66. A famous service station and restaurant in the heart of Shamrock is the now-defunct "U Drop Inn." I imagine that this was once a thriving business before Interstate 40 bypassed Shamrock as it did so many towns when it replaced Route 66.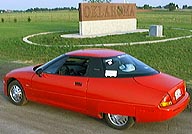 After only a day in Texas, I crossed the Oklahoma border. My first of two nights here was spent in Elk City. Although the city appears quite small on the map, I was surprised at its size. CSW's Ron DeFatta drove down from Tulsa to greet me, and Layne Chandler and Anita Archer from CSW's local subsidiary PSO (Public Service Company of Oklahoma) made arrangements for me to stay at the modern Elk City Holiday Inn. Anita invited me to use the 220 volt 30 amp dryer outlet at her home to charge my EV1 up overnight. Tomorrow, an in-depth television interview would give me the opportunity to continue to spread the good word about the EV1 and electric vehicles, and I'd visit the largest city in the state, Oklahoma City.
---
Trip Log
Departure
Point
Charging
Stop #1
Charging
Stop #2
Charging
Stop #3
Charging
Stop #4
Town or City
Adrian, TX
Amarillo, TX
Groom, TX
Shamrock, TX
Elk City, OK
Elevation
4200
3800
3460
3640
2250
Odometer
15733
15780
15830
15833
15943
Trip Odometer
0
55.5
39.0
52.8
60.6
Driving Notes
Leave 8:30 AM
Used A/C, low power, fan speed 4
Used A/C, middle power, fan speed 4
-
Grades Encountered
Flat
Flat
Flat
Some hills
Mostly flat, some small hills
Charging Information
Charge Start Time
11:00 PM
10:45 AM
1:40 PM
3:45 PM
9:00 PM
Charge End Time
8:30 AM
12:30 PM
2:40 PM
7:15 PM
Overnight
Charge Duration
9h 30m
1h 45m
1h 0m
3h 30m
3h 0m
Charging Facility
Fabulous 40 Motel
SPS/Amarillo
Groom City Hall, maintenance garage
WTU/Shamrock
PSO/Anita Archer residence
Contact Name
-
Ken Vaughan
Mary
Deanna Miller, Sae McAlister, Tommy Hudson
Ron DeFatta, Anita Archer, Layne Chandler-Public Service Co. Okla.
Charger Type
1.2kw/120v
6.6kw/240v
6.6kw/240v
6.6kw/240v
6.6kw/240v
Charge Indicator
(In Bars/11=100%)
9
3 start/10 finish
6 start/10 finish
? start/10 finish
3 start/11 finish
Charge Start (%)
50
18
Charge Stop (%)
84
84
84
100
Ambient Temp (°F)
Weather Conditions
70°
80°
90°
95°
75°
Approx. Miles to Next Charging Stop
and Known Grades
50 miles - Flat
39 miles
50 miles
55 miles
29 miles
---