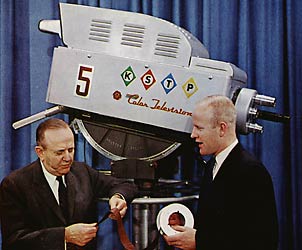 Mr. Stanley E. Hubbard (left), founder and owner of KSTP, one of broadcasting's foremost pioneers. He is president of KSTP and manager of the TV operation. Mr. Stanley S. Hubbard (right), upcoming son of the pioneer, is vice-president of KSTP, and manager of the radio operation. Seen with one of KTSP's new RCA TK-41C color television cameras and a "spot reel" of RCA 2" Television Tape.
In June 1939, KSTP purchased one of the first TV cameras in the U.S. and began experimenting with television. On April 27, 1948 commercial TV operation began from a location astride the Minneapolis-St. Paul line. The latest improvements during 1961 make the station one of the nation's greatest and the first in the region with complete color television facilities.
Pioneering has become a steady diet for KSTP, expressing the rugged individualism of its founder, Stanley E. Hubbard. His public spirited attitude, coupled with a vision for greatness, has won the loyalty of the twin cities audience.
Stan Hubbard's philosophy of success is short but pointed: "If you properly serve the public interest, profits will take care of themselves. Public service is a good reason for going into color," says Mr. Hubbard. "We decided to get color facilities in order to be part of the growth of this new industry, and because we want to give the public this wonderful service. We believe television is here to stay. It's the greatest medium. And color is part of that great medium." KSTP recently enlarged their office quarters, and added additional studio facilities while providing for color television.
"Today, as in 1949, we are following the lead of General David Sarnoff, founder and chairman of RCA. We think it is the wisest course to follow."
KSTP is now programming several local live color shows daily. On Sunday nights there is an hour long drama colorcast. Specials are put on in color whenever the occasion warrants. "We consider color television a must," affirms Stan Hubbard, "in order to protect our investment."
"Television has been a growth business with sales increases every year since its inception. Somewhere along the line it is going to level off-but color TV will allow it to take off again. It will be like a new industry. Right now we're experiencing something like when television first started," adds Stan Hubbard, Jr. People are gathering in homes of color set owners to watch color programs. And the distributor does not have enough sets to take care of the demand for new buyers."
Daily color programs include "Treasure Chest" for the ladies, "T-N-Tatters" for the children, and news shows for all ages. In addition there is a weekly religious program in color, "Quiz a Catholic."
Color film processing facilities have been added so the station can present daily happenings of significance as they actually occur to the eye. Several color News showings are put on daily - as fast as color film clips are received and processed.
All the foregoing is in addition to the massive NBC schedule of color programs. All of these are carried by KSTP. This means that viewers in the Twin Cities area have a chance of six to seven hours of color in their daily TV fare.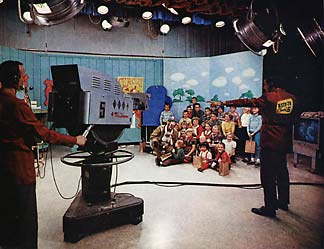 T-N-Tatters is a 40 minute circus show for children televised live in color. It runs daily from 4:35 to 5:15 pm. A studio audience of 50 to 100 happy youngsters is usually present. Darryl Laub is T-N-Tatters the clown.
COLOR BRINGS REVENUE
Surveys show that color shows attract more viewers and experience reveals that color commercials cost somewhat more to produce than monochrome. As a result KSTP makes an additional charge for color.

COLOR EQUIPMENT
Station KSTP has very complete RCA color facilities for producing TV shows and commercials, both in the studio and remote locations. Two studios are used for color and each has 2 TK-41 live color cameras. A Color TV film system is equipped with a TK-26 Color Film Camera and two TP-6 16mm Projectors, and a TP-7 Slide Projector. In the tape area, there are three RCA color TV Tape Recorders, Type TRT-1B. Color programs can be put on live or via TV Tape.