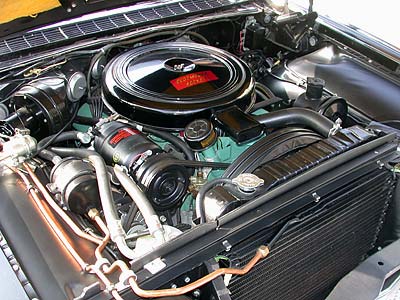 The massive 394 cu.in. Rocket V8 was actually 4 cu. in. larger than the engine in GM's most prestigious brand, Cadillac. The engine lives up to its name - it is extremely powerful, and coupled with Hydra Matic transmission, silky smooth as well.
Even a 6,800 mile engine compartment isn't likely to be as pretty as new after over 40 years, and this one was no exception. Many components were removed, cleaned and repainted. The engine itself is mechanically unrestored, although it was repainted. Olds used copper tubing for some Freon lines on factory a/c equipped cars - not only durable and corrosion resistant, but attractive as well when polished. The air conditioner works perfectly, blowing arctic cold.
One mystery on my Olds was why the transmission fluid is clear, not red as usual. I discovered that red dye was added to transmission fluid in the 1960's to differentiate it from motor oil. My Olds apparently has its original Hydra Matic fluid which is totally clear with none of the "burned odor" common to failing old transmissions. And 1950's Hydra Matic fluid contained whale oil, which might explain why the Hydra Matic transmission on my Olds is the smoothest shifting I've ever driven. Obviously, whale oil is no longer available, and the viscosity of modern fluids may not be exactly the same as what the early Hydra Matics were designed to use. Fortunately the seals in the tranny of my Olds have not leaked - I would be forced to top off with today's modern red fluid.
My Olds had all original belts and hoses when I bought it in 1992, and I was fortunate to find New Old Stock original GM belts and hoses to replace the originals. The exhaust system is completely original, and whisper quiet. Eastern Colorado seemingly provides an excellent environment for classic cars. Even the brake wheel cylinders were like new inside - normally they would show severe internal corrosion after so many years. The front wheel hubs were packed with white grease, obviously from the factory. And the original AC PF-5 spin-on oil filter was still on the car when I bought it. Olds switched from inconvenient cartridge filters late in the 1959 model year - the appearance of the original factory filter is different than modern replacement filters - it is painted green and has a heavily textured finish and has a integral male hex head on the end for installation and removal with a wrench. I saved the original filter because I'll probably never see another one like it.