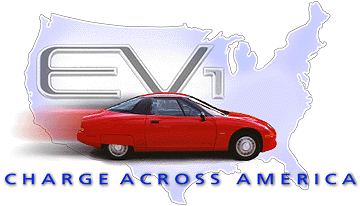 Hollywood film editor Kris Trexler is no stranger to long distance drives, having made trips from L.A. to places like Key West, Florida and Niagara Falls, New York. His love for the open road and excitement about the new EV1 are the inspiration for "CHARGE ACROSS AMERICA." Since the EV1 is currently only available in limited areas of California and Arizona, Kris wants to show America and the world that long trips in electric cars are not only possible, but fun and rewarding. Early in the 21st century, electric cars will be introduced by all automotive manufacturers in response to concerns about global warming, pollution, and depletion of fossil fuels. Obviously electric cars won't replace gasoline powered cars overnight, but as the technology evolves they will come into wider use. GM's EV1 is the first important step in introducing advanced technology vehicles, with many innovations to come such as improved batteries with longer driving range and fuel cell-powered electric vehicles.

Kris's route took him east from Los Angeles to Troy, Michigan (near Detroit). He took 3 weeks to make the 3,275 mile trip. He drove one-way and flew home, while his EV1 was shipped back to Los Angeles. You can follow Kris's progress and see photos taken along the route. He updated the website every evening during the trip, so you can follow his progress and see photos taken as he traveled across America. Many sources of 220 volt electrical power were prearranged to help keep Kris's EV1 charged up, thanks to the incredible support of electric utilities and other enthusiastic organizations along the route. Be sure to visit the Acknowledgments page to find out who supported Kris's adventure. The Daily Diary has a calendar with links to each day's report.
General Motors introduced the IMPACT concept electric car at the 1990 Los Angeles Auto Show. Trexler was interested from the beginning as the IMPACT evolved from a prototype into the first modern-era electric car manufactured by a major auto maker, the EV1.
GM IMPACT prototype electric vehicle
Kris was one of the first people to lease an EV1 when it was introduced in Los Angeles on December 5, 1996. He was won over by the car's spirited performance and futuristic styling, not to mention its contribution to cleaner air in smoggy L.A. He has logged over 13,000 miles in his car as of April 1998, and says without reservation that it has been the most reliable vehicle he's ever owned. Quite surprising considering all the new technology, and a tribute to the design and manufacturing folks at General Motors. GM's ongoing support for EV1 owners has been superb.
Kris Trexler taking delivery of his EV1 at Saturn of Santa Ana 12/5/96 (from left: John Campbell, Trexler, Jamil Najam, Rick Ostrov)
One of the biggest surprises has been the low cost of electricity to charge the EV1. Kris has a separate electric meter on the charger circuit at his home to take advantage of lower off-peak electricity rates and to monitor the cost of charging. The average cost for electricity to drive his EV1 approx. 800 miles per month has been only $17! No gasoline powered car can even come close! The car and charger lease for $399 per month and everything on the EV1 is fully covered by the factory warranty. Just about the only scheduled maintenance is a tire rotation every 5,000 miles - that's free too, as is roadside assistance. By the way, Kris has never "run out of juice" or needed to make an emergency call since he took delivery. To extend the EV1's range further, there are over 300 public charging stations in the Los Angeles area with more being added. Public charging is absolutely free and conveniently available in places like shopping malls, theaters, airports, and even some gasoline stations.
Wall mount Magnecharger
(inset: dual meters to take advantage of lower "off-peak" electricity rates)

Join the adventure as we head east from Los Angeles to Troy, Michigan (near Detroit). The DAILY DIARY home page has a calendar that will allow you to follow along day-by day.




Home | EV1 faq's | Daily Diary
Photo Album | Goodies | Route Map