DAY 21
June 1, 1998

---

just outside Detroit, Michigan


---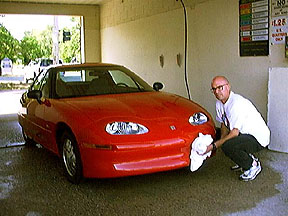 "Debugging" my EV1 prior to tomorrow's finale
For the first time in 3 weeks I woke up without the sound of my travel alarm late this morning. Today was a day to relax and reflect on the incredible experiences I've had during the last 21 days on the road with my trusty EV1. I spent the day working on the Daily Diaries for this website and cleaning up my grimy EV1 before tomorrow's finale. I originally planned for my Charge Across America to end here in the beautiful state of Michigan where it was designed and built (with plenty of help from Indiana, California, Canada, and other places I'm not yet aware of). Initially I thought that the Lansing Craft Centre where the EV1's final assembly is done might be the ideal place. But when an offer came from GMATV to host a finish line celebration at their headquarters in Troy, Michigan just outside Detroit, I quickly revised my schedule. Troy is where General Motors Advanced Technology Vehicles begin their development and design - how could I possibly pass up this opportunity?
Many people along my route asked my why GM didn't sponsor me. Why? Because I didn't want them to. I wanted this to be my own adventure and personal evaluation of my EV1. Sponsorship might have entailed conditions, and I wanted full control of my route and schedule. The lease I signed on December 5, 1996 clearly states that GM's warranty is not effective outside a 75 mile radius of the EV1's availability. This version of the EV1 was intended to be a commuter car, not a long distance cruiser. I was clearly doing something the car was not designed for. In the event of a breakdown, I planned to have the car shipped back to Los Angeles at my personal expense for repair. Of course, I always knew there was going to be no such failure. As I have stated countless times, this car has been totally reliable from the day I took delivery. I had driven over 14,000 trouble-free miles prior to the beginning of the trip. I knew the car wouldn't let me down, and it didn't. I've driven my EV1 3,275 miles since leaving Los Angeles on May 12, and the performance, comfort, and range was far better than I expected. When you're driving alone in a car for 3 weeks, comfort is a major factor. I hauled the heavy 6.6kW MagneCharger in and out of the trunk at least 50 times and sat in the driver's seat for untold hours - my delicate back never complained. Of course, that big charger was never designed to be a portable unit - it's supposed to be attached to a garage wall and hard-wired to the household electrical system. To expedite my trip, I converted it for temporary portable use, knowingly invalidating its warranty. Fortunately, the EV1's large trunk has a low sill, allowing for fairly easy removal of large items like the 220 volt charger.
Another question I was asked a few times: "Why aren't you driving coast-to-coast?" Simple - I love cars, and American automobiles are my hobby. Detroit is the heart of the auto business, and I've traveled there several times to soak up "automobila." I couldn't think of a more fitting place to end my personal 3,000+ mile EV1 adventure.
A few moments ago I received a call notifying me that CNBC would be providing television coverage of my arrival in Troy. Believe me, I never would have guessed that my little adventure to promote electrical vehicle technology would ever turn into a spectacle like this! I'm looking forward to meeting some of the talented designers and executives who kept the EV1 program alive at GM and are creating even more advanced vehicles for the future. GMATV originally asked me to schedule my arrival for today, June 1. Midway into my trip, they requested a one-day delay. I now know why. A major announcement was made today at the Clean Cities Conference in Washington, D.C. General Motors and Toyota announced today that they have jointly agreed to work together to further develop the MagneCharge inductive charging system. The importance of this announcement should not be underestimated. In order for electric vehicles to be successful, a standardized charging system must be adopted to allow infrastructure implementation to proceed smoothly. EV's don't need another Betamax vs. VHS or Windows vs. Macintosh war. This development between these two major players may help fend off such a disaster. Naturally, I gladly agreed to delay my arrival in Troy by one day to avoid clashing with the announcement in Washington.
Because my tight work schedule would not permit me to drive round-trip to Los Angeles, I planned to ship my EV1 back to Los Angeles from Michigan. I asked GM for help, and they graciously agreed to arrange the shipment. I'll fly back home on Wednesday, a bit sad that my adventure is over. I have fond memories of a unique experience that will be with me forever.
---

PLEASE VISIT MY ACKNOWLEDGMENTS PAGE
This trip was successful because a lot of people across the country assisted my before and during my trip.


---