DAY 22
June 2, 1998

---

GENERAL MOTORS ADVANCED TECHNOLOGY VEHICLES

Troy, Michigan

The successful finish of CHARGE ACROSS AMERICA

---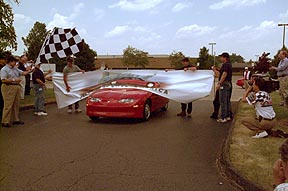 Crossing the finish line - 1:35 pm June 2, 1998
(photo courtesy Neil Love/General Motors)
Sorry to use the old cliché, but "all good things must come to an end." Thanks to everyone at GMATV for the incredible finish line party you threw for me today in Troy. The biggest joy of my whole trip was to see the excitement in the faces of the people who created the EV1 as I blasted through the finish line in my car after driving 3,275 miles from Los Angeles to Troy. Everyone was obviously proud that their baby had come through this cross-country adventure without the slightest hint of a problem.
| | |
| --- | --- |
| | I was escorted to GMATV's Troy Headquarters by a fleet of EV1's driven by employees. The EV1 Roadshow semi-truck joined the procession from my hotel in Farmington Hills to Troy. This was the third EV1 escort of my trip. I had been escorted in to and out of Phoenix, Arizona by members of the Phoenix EV1 Club during the first week. |
| | |
| --- | --- |
| | The decklid on my car started to gain autographs the day I got it on December 5, 1996. By coincidence, I took delivery of the first EV1 leased in Orange County California, and a contingent of GM and Saturn employees and execs were present to deliver one their new creations to a happy customer (me). On the spur of the moment that day, I asked them to autograph the inside of my decklid. Today at GMATV, I invited everyone associated with the program to add their names. |
Tomorrow I'll fly back to Los Angeles. GMATV graciously offered to ship my car in their "EV1 Roadshow" truck, since it was headed back to the west coast for other business anyway. I'll have to deal with "EV1 withdrawl" for a couple of weeks until I get #99 back home. Guess I'll have to give my poor Olds Aurora a little attention - I just hope the gasoline hasn't gone bad while it's been sitting in the garage for months without use! The EV1 has completely taken over the job of getting me around smoggy L.A.
I can't imagine a better way to drive without making a pollution contribution.
---
Rather than fill today's page with words, I'll share some of my memories of the day with photos,
including exclusive photos of a generation-2 EV1 prototype.

GMATV PLATFORM TOUR PHOTOS PAGE 1

GMATV PLATFORM TOUR PHOTOS PAGE 2

GMATV PLATFORM TOUR PHOTOS PAGE 3
---

PLEASE VISIT MY ACKNOWLEDGMENTS PAGE
This trip was successful because a lot of people across the country assisted my before and during my trip.


---