KARD-TV


TV 3
Wichita, Kansas
"flagship of The Kansas State Network"
---
As a 14 year old boy I toured this television station in my hometown, and a lifetime love for broadcasting was born. The sight of KARD's amazing color television camera and space-age master control room were all it took to ignite my aspirations to work in television broadcasting. Despite my parents' misgivings, I set my sights on a career in television.

It was the one of the luckiest decisions I ever made. I have been blessed with a satisfying and successful career as a film and video editor in Hollywood, working on major network broadcasts. Everything from "All in the Family," early MTV videos including work with Michael Jackson, segments for several years of Academy Awards telecasts, and even a couple of treasured Emmy awards on the mantle. I continue to work on network situation comedies, having edited countless hours of programming you may have watched at one time or another.

As you follow the story, you'll even have the opportunity to download and watch the original NBC color peacocks and rare color presentation logos from early ABC and CBS color broadcasts as well. Enjoy!
---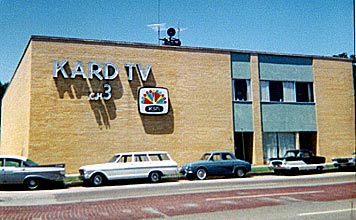 KARD-TV studios at 833 North Main Street - Wichita, Kansas in 1964. KARD was the flagship station of a chain of several NBC affiliates in Kansas called "The Kansas State Network."
(KARD has since changed its call letters to KSNW)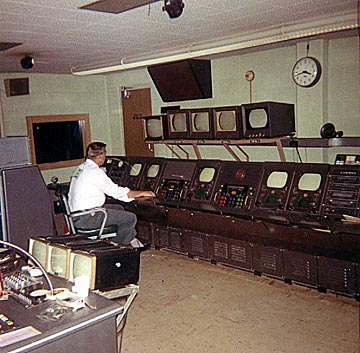 Engineer Ron Jordan adjusts the controls of the RCA TK-41 live studio camera and RCA TK-26 color film camera in KARD-TV Master Control.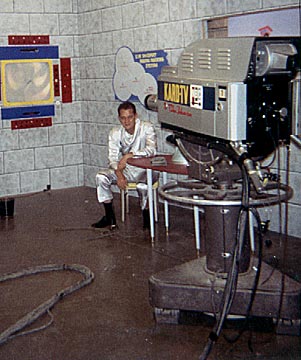 On the set of KARD's popular afternoon children's program "Major Astro."
Like many NBC affiliates in the 1950's and 1960's, KARD was able to afford only one of the giant RCA TK-41 color television cameras. Note the early Zoomar lens that is controlled by the silver plunger at the rear of the camera. The zoom action wasn't very smooth, but this revolutionary lens eliminated the need for multiple focal length lenses mounted on a turret. With only one color camera on the set, the Zoomar lens made it easier to "go in for a close-up" than dollying the heavy Houston Fearless pedestal. Most TK-41's at other facilities, especially in multiple-camera studios, were equipped with multiple-lens turrerts, not Zoomars.
For many live commercials, Major Astro (Tom Leahy) walked off the color set into a separate set equipped with black and white RCA TK-11 cameras. Not many advertisers were willing to spend extra for color commercials! It was odd to see a TV personality magically switch from Living Color to drab monochrome as they walked in front of the black and white cameras, but it was quite common in the 50's and 60's even on NBC network shows. I vividly recall seeing NBC star Gene Rayburn walk off the color set to do live black and white Spring Cigarette commercials on the NBC afternoon telecasts of my favorite game show, "The Match Game."
In a 2003 interview, Tom "Major Astro" Leahy reminisced how he landed the job of Wichita's favorite afternoon astronaut...
"The Space program was really gaining ground and Gene Canfield, who was a salesman at KARD-TV in the 1960's, was a very inventive and creative guy. Discussing new children's programming ideas with KARD's program director, Gene said ' why don't we have an astronaut on KARD? We'll buy a bunch of space cartoons and things like that science-fiction type stuff and we'll put him on in the afternoon.' 'Ok, who?' the program director asked. ' Well, I know the guy who can do it. He's working at KFH (radio) right now,' so Gene called me and said ' would you like to play an astronaut on TV? ' and I said ' well, yeah...as long as I don't have to go into space!"
"One day on 'Astro' we had a new director and he had me hopping from camera to camera. The red light would go on and I'd have to look over here and here (motions with his fingers) and finally I introduced a cartoon and I said, 'what the BLANK is going on?' The sound engineer hadn't killed my mic and that went out over the air, shocking all the little astronauts out there. I was an astro-nut!"
Tom "Major Astro" Leahy died at age 87 from complications of heart surgery on Friday June 18, 2010
Read about his passing here ..... Photos from Tom Leahy's career here
R.I.P Major Astro. Happy Orbits! ... for eternity.